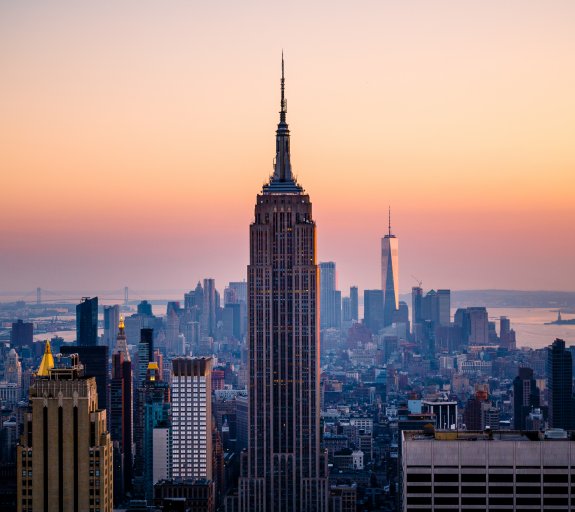 US - A year of rebound, but recovery must wait
02 December 2020 (5 min read)
---
Key points
Uncertainty will persist into 2021, over a winter virus outbreak, policy gridlock after the US election and - more positively - the roll-out of a vaccine
We forecast strong growth of 4.8% in 2021 and 3.7% in 2022, following this year's expected 3.4% fall
Yet this would only achieve 'recovery' by end-2023
The Federal Reserve is likely to remain the only reliable source of policy support. Rates should remain on hold until 2024, but quantitative easing tapering could begin early in 2022
---
Who knew?
In our 2020 Outlook, we warned of recession in 2021 and the Federal Reserve (Fed) easing policy by end-2020. We did not envisage a global pandemic, the sharpest quarterly contraction in GDP on US records and the Fed expanding its balance sheet faster than after the financial crisis of 2008-09.
Looking ahead to 2021 and 2022, we are mindful of the still significant uncertainties that persist. These include an acceleration of new virus cases in the US and Europe as the winter approaches, and more encouragingly, the prospect of mass vaccination throughout 2021. It also includes more mundane uncertainties, such as how new US President Joe Biden will manage the likely challenge of a mixed Congress.
The economics of COVID-19
As 2020 has taught us, the path of the virus is both unpredictable and damaging. The US's initial Q2 contributed to a 31.9% (annualised) contraction in GDP, the steepest on record. Exhibit 1 shows the virus is re-emerging as the US heads into winter. We fear a worse outbreak than over the summer, but less disruptive than the initial outbreak. All-in-all we have lowered our outlook for Q4 2020 and Q1 2021 to 6.1% and -2.4% (annualised) respectively.
2021 looks likely to be the year of mass vaccination against the coronavirus. Yet deployment at scale is challenging and demand uncertain, with one survey suggesting that a third of the US public would not get inoculated. We assume that a vaccine is made available to emergency workers and vulnerable groups in Q1, with wider dissemination beginning in Q2 and broadly completed before next winter. The economic boost this would deliver is uncertain. Reduced susceptibility amongst the vulnerable would lower the need for broader restrictions, boosting activity in H1 2021. More widespread coverage is only likely to lift activity across H2 2021. A broad rise in mobility to pre-COVID-19 levels could boost growth materially from mid-2021. Yet we pencil in a more cautious gain as households face resource constraints and firms' spending may be limited by high levels of debt.
Exhibit 1: Virus on the rise again
---
46th POTUS – transition delay, divided Congress?
November's election left Joe Biden set to become the 46th President on 20 January. While President Donald Trump has pursued a number of legal challenges, none have proved substantial and only served to delay transition. Yet the new President still faces an uncertain Congress. The House of Representatives remains in Democrat control. The Senate outcome is uncertain, with 'run-off' ballots to decide the two Georgia seats to be held on 5 January. If the Democrats win both they would draw level in the Senate, handing a casting vote pass to Vice President Kamala Harris and gaining majority control. In our view, this is unlikely.
President-elect Biden thus looks most likely to face a divided Congress, creating material policy-making uncertainty. Biden is a seasoned politician with experience of crafting bipartisan support. However, US politics has become more fractious and partisan and the experiences of Presidents Trump and Obama working with a divided Congress are not encouraging. We fear political gridlock that is likely to impact the economy. Government appointments may take longer. Further short-term emergency stimulus is expected to be delayed further and smaller – we assume $1-1.5tn in Q1 2021. And most of Biden's progressive manifesto is unlikely to be enacted, leaving the US economy bereft of significant long-term fiscal support and remaining reliant on easy monetary conditions.
Fast growth, but much ground to make up
The near-term outlook will be dependent on the virus and short-term stimulus. While the virus should dampen spending over the coming months, the ongoing delay to additional fiscal support is resulting in falling household incomes. The saving rate, in decline since April, was a still elevated 14.3% in September, but we expect it to fall steadily to close this year to under 11%. Without additional stimulus in Q1, falling incomes are likely to constrain consumer spending and growth from early next year.
Beyond a challenging start to the year, we are hopeful for 2021. Fresh fiscal stimulus and the gradual mass roll-out of a vaccine should underpin spending and hiring. We forecast growth of 4.6% in 2021, (the market consensus is 3.8%1 ), slowing to 3.7% in 2022 (consensus 2.9%) as a gridlocked government fails to enact long-term fiscal support.
Exhibit 2: Level of US GDP
Qmxvb21iZXJnLCBOb3YgMjAyMC4=
---
Although we forecast the fastest consecutive growth rates for over 20 years, this follows an expected fall of 3.4% in 2020. Exhibit 2 illustrates the impact on the level of activity. We do not forecast the US regaining its previous trend even as we look out to 2023. That said, the 2016 to 2019 trend likely exceeded long-term economic potential. We expect the US to close its output gap by the end of 2023.
This persistent shortfall should leave labour market conditions loose over the coming two years. Unemployment has recovered quicker than we anticipated, standing at 6.9% in October, although we fear little progress over the coming months. Moreover, economic participation remains 1.7ppt below its level at the start of 2020. As the economy recovers in 2021, we expect job growth and participation to rise - particularly if a vaccine aids recovery in the labour-intensive service sector. However, we see unemployment only below 6% at the end of next year and to average 5.2% in 2022.
Inflation should rise gradually in 2021. It has been firmer than expected recently, with demand for goods rising quickly and a sharp fall the dollar. While this may reverse a little over the winter, base effects look set to push CPI inflation to over 2% by mid-2021. However, despite rising activity, excess supply should keep downward pressure on prices. We forecast inflation to average 1.3% in 2020, 1.8% in 2021 and 2.2% for 2022. PCE inflation – the Fed's preferred measure – is likely to remain somewhat lower and we forecast 1.5% and 1.9% for 2021 and 2022 respectively.
The Fed's broad shoulders
With only gradual economic recovery, ongoing policy support will be needed, and our baseline electoral view suggests this is more likely to be monetary than fiscal. In the near-term, fresh virus risks – or paradoxically market overreaction to vaccine hopes – could spur the Fed to additional action, such as buying more assets, buying longer maturities, or injecting more liquidity. However, on balance we consider the Fed most likely to continue to accumulate assets at the extraordinary pace of $120bn per month (Exhibit 3).
Exhibit 3: Fed's balance sheet to continue to support
---
The Fed has also made changes to its reaction function, shifting to an average inflation target, and introducing forward guidance based on full employment-consistent labour conditions and PCE inflation at target and expected to overshoot. It remains to be seen how the Fed will interpret these conditions, with broad scope for discretion. However, with the output gap expected to close only by end-2023, we do not consider PCE inflation likely to be above target much before then, while our current labour market projections suggest full employment conditions only in 2024. As such, we do not expect a change in the Fed Funds Rate until 2024.
Yet the Fed has offered no guidance around its balance sheet policy. With an expected softer start to 2021, we expect the Fed to be cautious and continue to provide balance sheet expansion at the current pace throughout 2021. We would expect the Fed to warn of reduced operations later next year and spend most of 2022 tapering its QE programme, with increases in 2023 only reflecting the gentle rise of Fed liabilities. However, any materialisation of upside risks on activity associated with a vaccine could see the Fed bringing forward such a tapering into the second half of next year.
Not for Retail distribution