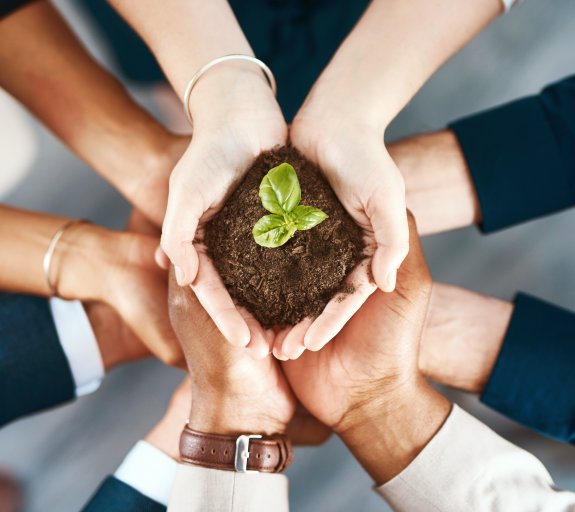 Corporate responsibility
We believe that success lies where value creation and growth can be shared by everyone - for our clients, employees, future talent and the communities we serve or who rely on us.
Our responsibility as a business and employer
Just as we are an active player in responsible investment, with ESG integration embedded across our investment platforms and RI experts, we recognise our role as a business and employer, to hold ourselves to the same high standards that we ask of others.
Central to our decision making is our Sustainability Forum, led by our Executive Chairman, Marco Morelli. This is where we shape our vision and convictions for sustainability at AXA IM, across responsible investing and corporate responsibility. We also benefit from our parent AXA Group, which is a leading industry voice fighting for progress on topics such as climate change and social inclusion.
In Corporate Responsibility, we are guided by three commitments: People, Environment and Business resilience.
Our stories
What is our role in the fight against climate change?
Climate change is a complex topic. That is why we gave our interns the opportunity to question our senior leaders on our commitment to tackling climate change. In this video, Nancie Vendette, Global Head of Corporate Communications, Corporate Responsibility and Smart Working, explains AXA IM's three steps approach to tackle our emissions as a business.
Watch the full video here
People
We strive for an inclusive work environment built on fairness, equality and wellbeing in which performance and long-term employability can be nurtured.
We use our voice as a leading asset manager, pushing for progress on topics such as gender equality. We ask the same across our supply chain, with a procurement framework to ensure our partners act with equal integrity and responsibility.
Our commitment to shared value extends to our local communities, supporting them to similarly grow and prosper. We focus on projects with a tangible societal impact, across education, health and climate change/biodiversity. We have donated 5% of the fees from our Impact Funds to organisations committed to positive change. By embedding a charity mechanism into our impact funds, we are meeting our clients' expectations while having a direct impact on individuals, communities and our society.  We have donated to and partnered with the Access to Medicine Foundation  on research into Covid-19 and disease prevention. Our Real Assets team partnered with IN'LI in July 2020 to construct affordable housing in France, seeking to build 1,500 homes per year, with a target of 25,000 homes by 2030.
Our volunteer community 'AXA Hearts in Action' enables our employees to dedicate their time and expertise to local charities focused on education, social integration and housing.  Our employees are currently partnering with 19 organisations across 9 countries.
Environment
As a leading asset manager, we recognise our responsibility and crucial role we can play as an investor in leading the transition to a low carbon economy.
As a founding investor of the Net Zero Asset Managers initiative launched in December 2020, we are committed to achieve net zero emissions across our portfolios by 2050 or sooner and AXA IM play a key role in helping AXA Group realise their ambitious climate goals. Recognising our own impact we are currently working towards an initial 26% reduction from our 2019 CO2 emissions by 2025, notably across our premises and business travel.
Business resilience
We seek to produce a long-term profit in a responsible, resilient and sustainable manner. 
As a responsible investor, we actively use company engagement and voting to positively influence the corporate behaviours needed to drive long term sustainable growth.  As an organisation we similarly work to nurture a relationship of accountability, transparency and trust with our clients, employees and all those who engage and partner with us. Whether in the way we identify and manage risk, protect data privacy or run our day to day operations, we seek the responsible way forward.
Hear first-hand from our people, partners and external experts, as they share their stories on how at AXA IM we are driving progress and serving both the changing needs of our customers, and the world we live in.