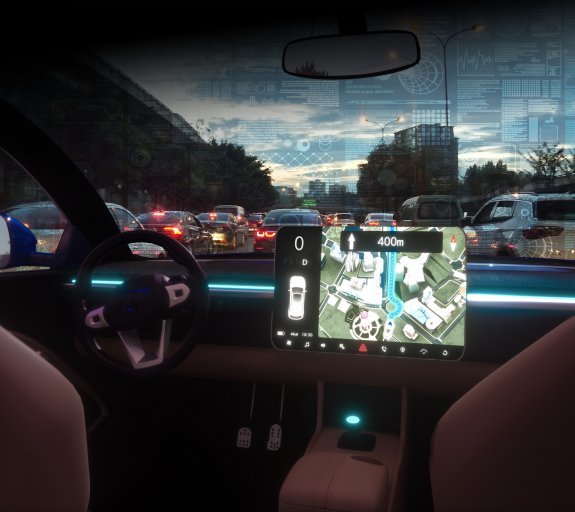 The future of autonomous vehicles: China in the driving seat
11 January 2021 (5 min read)
---
The shift in consumer behaviour to a more digitally enhanced way of working and living has quickened the pace of development towards a driverless future.
Even before COVID-19, there was broad anticipation of the market's potential, amid benefits such as better vehicle utilisation and lower carbon emissions from fewer gas-guzzling cars, trucks and buses on the road. Now, spurred by the added desire to overcome various restrictions and tackle health concerns stemming from the pandemic, the global race is heating up.
China and the US have been vying for pole position, as evidenced by several accelerating trends such as driverless vehicle testing in both countries. In addition, autonomous vehicles have been used to transport medical supplies and food to healthcare professionals and the public during COVID-191 while billions of dollars are being invested in driverless technology by many of the world's leading automakers and technology companies2 .
This all provides good reason for optimism. Among various forecasts, for example, the global autonomous vehicle market will exceed US$200bn by 20253 .
China and US take tech race to new level
Pre-pandemic, the US led efforts to develop autonomous vehicles. Silicon Valley is broadly considered the birthplace of driverless technology – with companies clocking up 2.85 million miles in 2019, marking an increase of over 800,000 miles compared with 20184 .
However, China's general aspirations in technology solutions that apply artificial intelligence (AI) mean the country is also spearheading a self-driving future. A more favourable regulatory environment at home is a big push factor in achieving this objective, along with China's proven efficiency in pushing new technology in general.
Capgemini data, for example, shows that the Chinese market's preference for autonomous driving is 60%5 , much higher than the rest of the world, indicating China's acceptance of new technologies such as autonomous driving.
At the same time, Chinese autonomous driving companies are not limiting themselves to their domestic market. Instead, they have been seeking approvals to conduct tests in California.
Start-up AutoX is a case in point. Although it has built on its close relationships with the Shanghai and Shenzhen governments to test autonomous vehicles with safety drivers in recent years, in mid-2020 it became the first Chinese company to obtain a permit from the California Department of Motor Vehicles to start testing driverless cars in designated areas in San Jose6 .
The importance of 5G as an enabler also puts China in a good position to capitalise on its desire to pursue a driverless future – industry studies say it reduces the high cost of on-board equipment by shifting some computing power off vehicle7 .
With these and other such examples of China's progress in autonomous driving, some industry analysis tip China to soon become the world's biggest market in this space.
McKinsey, for instance, estimates these vehicles can account for as much as 66% of passenger kilometres in 2040, creating revenue of US$1.1 trillion from mobility services, and US$0.9 trillion from sales of autonomous vehicles by that year. In unit terms, that means autonomous vehicles will make up just over 40% of new vehicle sales in 2040, and 12% of the vehicle installed base.8
Capitalising on China's commitment
Despite the hype, there is still a long way to go before we see a self-driving revolution.
Among the key challenges are the need for technology to prove it can outperform humans and adapting to suit local driving styles, road conditions and regulations. Additionally, there is a lack of effective, universally adopted metrics along with consensus on what implementation will look like and questions over the extent of public trust in the technology and its application.
At the same time, the high costs of the critical component - the Advanced driver-assistance systems (ADAS) system - mean the manufacturing rate in China is low for now. As a result, most driverless vehicles in China are not yet equipped with ADAS equipment9 .
Yet the scale of the opportunity in China particularly, is focusing the country's internet giants and traditional car makers on research on driverless cars.
Perhaps the strongest evidence of the domestic appetite to commercialise this sector is President Xi Jinping's attendance at a ceremony in late July 2020 to mark the launch of the BeiDou-3 Navigation Satellite System10 .
The government's commitment can be seen in the joint release of the 'National Industrial Standardization of Internet of Vehicles' at the end of the same month by four ministries – the Ministry of Industry and Information Technology, the Ministry of Transport, the Ministry of Public Security, and the Standardization Administration of China11 .
In short, this aims to establish intelligent comprehensive transportation standardisation by 2022/2025. The policy also points to public spending for 'Internet of Vehicles' infrastructure and improving the adoption rate of autonomous driving across the country.
aHR0cHM6Ly93d3cudGVjaG5vbG9neXJldmlldy5jb20vMjAyMC8wNS8xOC8xMDAxNzYwL2hvdy1jb3JvbmF2aXJ1cy1pcy1hY2NlbGVyYXRpbmctYXV0b25vbW91cy12ZWhpY2xlcy8sIE1heSAxOCAyMDIw
aHR0cHM6Ly93d3cuZm9yYmVzLmNvbS9zaXRlcy9qZW5uaWZlcmxlaWdocGFya2VyLzIwMjAvMDgvMDcvZHJpdmVybGVzcy1jYXJzLWdhaW4tc3BlZWQtZGVzcGl0ZS1nbG9iYWwtc2xvd2Rvd24vIzVhMWZhYmQ2MmU4NiwgQXVnIDcgMjAyMA==
aHR0cHM6Ly93d3cucHJuZXdzd2lyZS5jb20vbmV3cy1yZWxlYXNlcy90aGUtZ2xvYmFsLWF1dG9ub21vdXMtdmVoaWNsZS1tYXJrZXQtMjAyNS1hLTIwMC1iaWxsaW9uLW9wcG9ydHVuaXR5LWFzc2Vzc21lbnQtLS1sb25nLWhhdWwtdHJ1Y2tpbmctbWFya2V0LXdpbGwtZ3Jvdy1hdC02MC1jYWdyLXRocm91Z2gtMjAyNS0zMDEwMjQ5NzQuaHRtbCAsIE1hciAxNiAyMDIw
aHR0cHM6Ly93d3cudGhlc3Rhci5jb20ubXkvdGVjaC90ZWNoLW5ld3MvMjAyMC8wNy8yMS9jaGluZXNlLWF1dG9ub21vdXMtZHJpdmluZy1zdGFydC11cC1hdXRveC13aW5zLWRyaXZlcmxlc3MtY2FyLXBlcm1pdC1mb3ItdGVzdHMtaW4tY2FsaWZvcm5pYSwgSnVseSAyMSAyMDIw
aHR0cHM6Ly93d3cuY2FwZ2VtaW5pLmNvbS93cC1jb250ZW50L3VwbG9hZHMvMjAxOS8wNS8zMG1pbi0lRTIlODAlOTMtUmVwb3J0LnBkZiAsIE1heSAyMDE5
aHR0cHM6Ly93d3cuc2NtcC5jb20vdGVjaC9zdGFydC11cHMvYXJ0aWNsZS8zMDkzODkxL2NoaW5lc2UtYXV0b25vbW91cy1kcml2aW5nLXN0YXJ0LWF1dG94LXdpbnMtZHJpdmVybGVzcy1jYXItcGVybWl0LCBKdWx5IDIwIDIwMjA=
aHR0cHM6Ly93d3cuc2NtcC5jb20vdGVjaC9zdGFydC11cHMvYXJ0aWNsZS8zMDg4NDE5L3doeS01Zy1jb25zaWRlcmVkLWVzc2VudGlhbC1lbGVtZW50LWNoaW5hcy1hdXRvbm9tb3VzLWRyaXZpbmctcm9hZCwgSnVuZSAxMSAyMDIw
aHR0cHM6Ly93d3cubWNraW5zZXkuY29tL2luZHVzdHJpZXMvYXV0b21vdGl2ZS1hbmQtYXNzZW1ibHkvb3VyLWluc2lnaHRzL3RoZS1mdXR1cmUtb2YtbW9iaWxpdHktaXMtYXQtb3VyLWRvb3JzdGVwLCBEZWNlbWJlciAxOSAyMDE5
aHR0cHM6Ly9hbmFseXRpY3NpbmRpYW1hZy5jb20vaG93LWZhc3QtaXMtY2hpbmFzLWRlbWFuZC1mb3ItYXV0b25vbW91cy1kcml2aW5nLXRlY2hub2xvZ3ktZ3Jvd2luZy8=
aHR0cDovL3d3dy54aW5odWFuZXQuY29tL2VuZ2xpc2gvMjAyMC0wNy8zMS9jXzEzOTI1Mzc4Ny5odG0sIEp1bHkgMzEgMjAyMA==
aHR0cDovL3d3dy5jbnN0YW5kYXJkcy5uZXQvaW5kZXgucGhwL2NoaW5hLXN0YW5kYXJkaXphdGlvbi1mb3ItaW50ZXJuZXQtb2YtdmVoaWNsZXMtMjAyMC8sIEFwcmlsIDIwIDIwMjA=
---
Pioneering a driverless future
The above-mentioned companies do not constitute any investment recommendation or investment advice. They are for illustrative purpose only.
aHR0cHM6Ly93d3cuY2hpbmFkYWlseS5jb20uY24vYS8yMDIwMDUvMDIvV1M1ZWFkMTU0Y2EzMTBhOGIyNDExNTMzNmMuaHRtbCwgTWF5IDAyIDIwMjA=
aHR0cHM6Ly93d3cuc2NtcC5jb20vdGVjaC9hcnRpY2xlLzMwNzkzNjIvY2hpbmVzZS1zZWxmLWRyaXZpbmctc3RhcnQtYXV0b3gtc2V0cy1hc2lhcy1sYXJnZXN0LXJvYm90YXhpLW9wZXJhdGlvbnMtY2VudHJlLCBBcHJpbCAxMCAyMDIw
aHR0cHM6Ly93d3cucmV1dGVycy5jb20vYXJ0aWNsZS91cy1jaGluYS1hdXRvbm9tb3VzLXdlcmlkZS1pZFVTS0JOMjRCMDNRLCBKdWx5IDEwIDIwMjA=
aHR0cHM6Ly90ZWNobm9kZS5jb20vMjAyMC8wNy8xMS9wb255LWFpLXRvLW9mZmVyLXJvYm90YXhpLXNlcnZpY2VzLWluLXNoYW5naGFpLywgSnVseSAxMSAyMDIw
aHR0cHM6Ly93d3cuc2NtcC5jb20vdGVjaC9lbnRlcnByaXNlcy9hcnRpY2xlLzMwODYzNTMvY2hpbmFzLWJhaWR1LWZpbmlzaGVzLWJ1aWxkaW5nLXdvcmxkcy1sYXJnZXN0LXRlc3QtZ3JvdW5kLCBNYXkgMjggMjAyMA==
aHR0cHM6Ly9wYW5kYWlseS5jb20vYm13LWNoaW5hLWFuZC1uYXZpbmZvLXRvLWRldmVsb3AtaGlnaC1wcmVjaXNpb24tbWFwcy1mb3ItYXV0b25vbW91cy1kcml2aW5nLywgSnVseSAxNSAyMDE5
---
Commercialisation potential
While the technology conceivably faces a relatively long road to fruition, there is promising commercial potential in multiple areas of the autonomous vehicle space – ranging from RoboTaxis to last-mile delivery to trucking and public transport.
In the autonomous bus market, for example, Technavio's latest market research report shows that from 2020-2024, units globally are expected to grow by 2,364 units – 45% of which will originate from Asia Pacific – with the market's momentum likely to accelerate throughout the forecast period18 .
Within China, Beijing, the first city in the country to test driverless cars on public roads in 2017, is among the most proactive locations worldwide in terms of forging a future for autonomous vehicles. For example, these are expected to be part of major upcoming events, such as the Beijing 2022 Winter Olympics and Paralympics.19
Despite some hurdles, it may only be a matter of time before autonomous vehicles revolutionise the mobility of our world, and China is one of the potentially best bets for early commercialisation.
aHR0cHM6Ly93d3cuYnVzaW5lc3N3aXJlLmNvbS9uZXdzL2hvbWUvMjAyMDA2MDIwMDU1NDUvZW4vR2xvYmFsLUF1dG9ub21vdXMtQnVzLU1hcmtldC0yMDIwLTIwMjQtRGV2ZWxvcG1lbnRzLUF1dG9ub21vdXMsIEp1bmUgMDIgMjAyMA==
aHR0cHM6Ly9hc3NldHMua3BtZy9jb250ZW50L2RhbS9rcG1nL3h4L3BkZi8yMDIwLzA3LzIwMjAtYXV0b25vbW91cy12ZWhpY2xlcy1yZWFkaW5lc3MtaW5kZXgucGRmLCBKdWx5IDIwMjA=
Visit the fund centre
Equities
AXA WF Framlington Robotech
The Fund aims to generate long-term capital growth by investing in companies throughout the world active in the expanding field of robotics and robotics-related technologies.
View funds
Not for Retail distribution