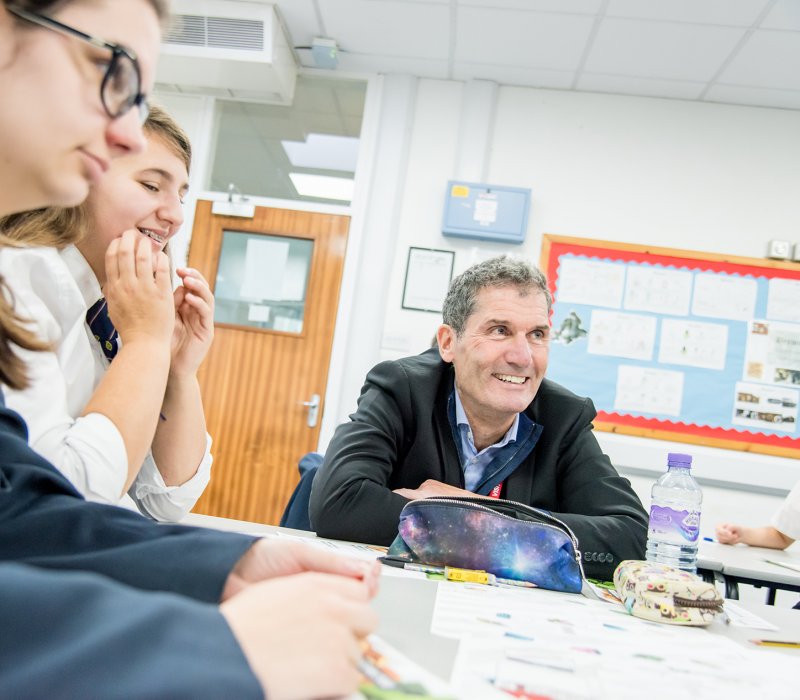 Social
Two minutes with Guy Rigden, CEO My Bnk
Guy Rigden joined MyBnk in 2013 as Expansion Director and was subsequently appointed Chief Executive in 2016. A financial services veteran, having previously spent 30 years as an investment strategist, Guy has overseen the development of MyBnk's work with young adults in vulnerable circumstances, which today accounts for half of the charity's operations. These include MyBnk's work with KickStart Money, which is campaigning to have compulsory financial education on the National Primary School Curriculum. Guy is also a member of the Money Advice Service's Financial Capability Board for the UK and the Consumer Advisory Board of UK Finance. In September 2011, he was appointed interim Chief Executive of Microloan Foundation, Malawi.
Guy is passionate that MyBnk is at the forefront of making a positive difference to young people directly and that its work is leveraged to achieve systemic change.
He says: "MyBnk helps young people engage with personal finance through high quality and fun programmes to build financial capability - financial capability helps build lives."
We asked Guy why he believes financial education for kids is so vital and what makes MyBnk's work with KickStart Money unique.
MyBnk's mission revolves around empowering young people to take charge of their finances. Why is it so important that young people learn about finance?
At MyBnk we want to inspire a financially capable and enterprising generation. We want to help young people get the best use out of money that they can, because when things go wrong with money, that's when things then go wrong with life.
What makes KickStart Money unique?
What's unique is that a number of investment management organisations, including AXA Investment Managers, have come together. And together, they are focused not just on introducing financial education but vitally ensuring that financial education actually makes a difference. And for MyBnk these are the partners we want to work with. We know it has an impact, independent evaluation with the Money and Pensions Services shows pupils delay spending gratification and start saving after these programmes.
How have you structured your programmes in terms of working with partners, such as AXA IM? How are you looking to influence change?
In terms of structure, there are two primary goals. The first is to design and develop programmes and content which are age and/or circumstance appropriate. The second is to leverage the knowledge we have gained from working with a lot of young people, so we deliver programmes which are tested, evaluated and delivered in a coherent way. That's how we will work with AXA IM and those in government - to influence the overall agenda for education and ultimately achieve systemic change. We are already reaching many young people both inside and outside of schools. But to make real change happen, we need to be influencing on a national level.
Should financial education be on the national curriculum?
Getting financial education on the curriculum is so important and we're working in a number of ways to make that happen. We are working with schools, teachers and others to deliver financial education that works. We are providing tools that will help young people get more proficient with money and we are also offering a platform, so those who instigate, and influence change can see how financial education works. But just making it mandatory isn't enough, teachers need support to make it work.
When should we be talking about money to young people?
As early as possible and at key transitional moments. The early stage is what MyBnk are doing with KickStart Money and AXA IM in primary schools, because that's when habits are formed. We aim to get young people comfortable talking about money. We get them to form positive money habits - not spending everything, not saving everything but having more moderate and considered behaviour. The other major point in time to have a dialogue is when they go to university or are considering buying a house and therefore are thinking about taking out a mortgage.
What is your hope for the future of financial education?
My hope and intent - if I can put it that way - is that every young person gets the appropriate financial education they need, and at the right stage of their life. It is essential that the education is relevant, appropriate, engaging and effective. But we need to invest properly to do that. We need to get it on the national curriculum, and make sure it has adequate and appropriate resources, to ensure training and support is effective and therefore can make a real difference.
Do you think young people are engaged with money?
We're talking about stuff that children don't know they need to know until they're engaged with it. And then they really understand that they really do need to know this! But they are not going to seek it out normally. Often they recognise terminology but not necessarily the context.
Our expert trainers talk about what's relevant and engaging. They have at least two years' experience of working with young people. We train them so they know what they're talking about in depth. When young people enjoy the experience and are fully engaged, they naturally take in more information.
We've been very pleased and found it very productive to engage with AXA IM and KickStart Money, because they care that financial education works. They've trusted MyBnk to explore and develop financial education processes. Indeed, the evidence says yes, that we can influence positive money habits and those who previously didn't have a good attitude or understanding of money can make a lot of progress.
That's very satisfying for us and our supporters, but most of all, this is going to stand those young people in good stead for their future.
How will KickStart make real change happen?
For change to happen, we need the buy-in from those who can influence change, such as Members of Parliament. So far, we've had almost 20 MPs visit these programmes.  They have seen them in action, in the classroom - and that's a very powerful way of witnessing how financial education can make a difference. And we'd like to invite others to come and see these initiatives, to see that financial education at primary school is something important and needs to be undertaken.