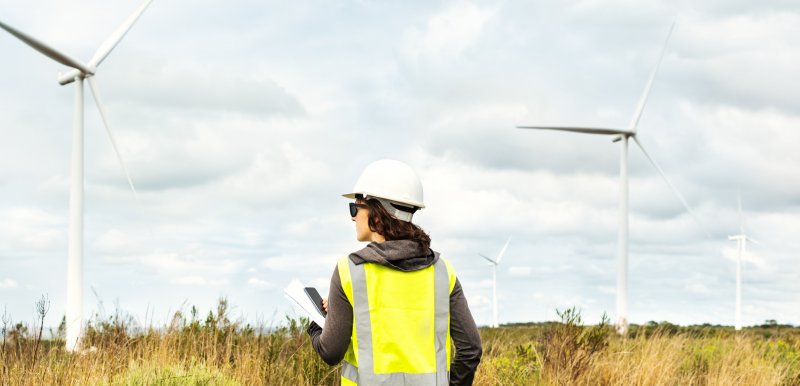 Environmental
Data crunch time for climate activism
Driving climate activism from within
At AXA IM, we recognise the complexity of climate change and we encourage our employees to join our efforts as we work to fight the crisis.
In the Data Lab at AXA IM, quantitative analyst Danika Matheron translates data into actionable intelligence. As an impassioned climate advocate, Danika knows that her role at the intersection of finance and climate action is making a difference. Her story shows how a personal commitment to protect the environment and a career in responsible investing can help drive critical, large-scale action on climate.
We asked her to document her journey which highlights how everyone can make a difference.
We can take global action by applying the highest standards of climate measurement so that the companies we invest in take the environment seriously.
Quantitative analyst
Who is Danika Matheron?
Danika Matheron would not class herself as a climate activist. But in her own persistent and quiet way she has been fighting the good fight her whole career, shifting her focus slightly with each new role to get to a point where she can have a positive impact on climate change. 
Danika joined the Responsible Investing team in November 2018 as a quantitative analyst. She is working on the ESG integration of new asset classes and the development of a climate methodology. Prior to this, Danika worked for 5 years in the investment department at AXA France as an asset allocator, after a first experience as an ESG consultant at KPMG.
Danika has a Master of Science in Engineering from the Ecole des Mines de Saint Etienne and a Master of Science in Civil Engineering from the University of New Brunswick as well as a Master's in international Finance from HEC.
From a young age, Danika was worried about the effect climate change was having on the world around her. After her first engineering degree, she went on to do a Masters in Environmental Engineering in the hope she could make a difference.
Starting a career with a focus on ESG
With a stint as an ESG consultant under her belt, she moved to AXA France's investment department. As a side-line to her investment functions she joined the cross entity working group on environmental, social and governance (ESG) topics. One of her proudest moments there was inviting engineer and climate expert Jean-Marc Jancovici, founder of The Shift Project, to talk to her colleagues about climate change.
"So many of my colleagues were shocked by his talk," Danika says. "It was like a lightbulb going off in their heads. They finally understood that the climate crisis would have serious consequences for them, and as a result they started to make changes in their lifestyles. They didn't see the world in the same way anymore."
While she was working at AXA France, Danika could see that the tide was turning. The world of business was waking up to the very real threats posed by climate change. She also saw that to make a real impact she needed to influence investments.
"When I worked as an ESG consultant I realised that the backing of the finance industry could be a powerful catalyst," adds Danika. Now, as an analyst in the Quant Lab at AXA IM, she is in a position to influence the investing choices of AXA IM's clients.
Helping colleagues make sustainable investment decisions
The decisions portfolio managers make about choosing which companies to back are only as good as the data behind them. At AXA IM's Quant Lab, Danika makes sure portfolio managers have the best information available so they know which companies meet important climate criteria and which do not. Danika and her fellow quants sift through all available data ensure their portfolio manager colleagues have what they need to make informed decisions.
Danika uses ESG scoring, climate modelling, Sustainable Development Goal modelling and biodiversity data to define metrics that can be used to create insights from vast amounts of business data.
"We are so lucky in the world of finance because the decisions we make transcend politics and borders", Danika says. "We can take global action by applying the highest standards of climate measurement so that the companies we invest in take the environment seriously."
Investing in Iceberg Data Lab
One of AXA IM's latest investments is in Iceberg Data Lab, a fintech firm that develops science-based models and uses biodiversity data to calculate the environmental impact of portfolios. These tools can measure the most harmful and material impacts of issuers and assets, from supply chains to end use.
"Attitudes have changed enormously since I started my career," says Danika. "Responsible investing used to play a fairly minor role in the strategies of global investment companies, but now it's central – and AXA IM is leading the charge. Our clients are increasingly reaching out to ask about the climate credentials for investments and even challenging the data. The shift has been incredible to watch and long may it last. I like the world the way it is - I work at AXA IM because I hope what we do here today will help protect it for future generations."
I work at AXA IM because I hope what we do here today will protect the planet for future generations.
Quantitative analyst