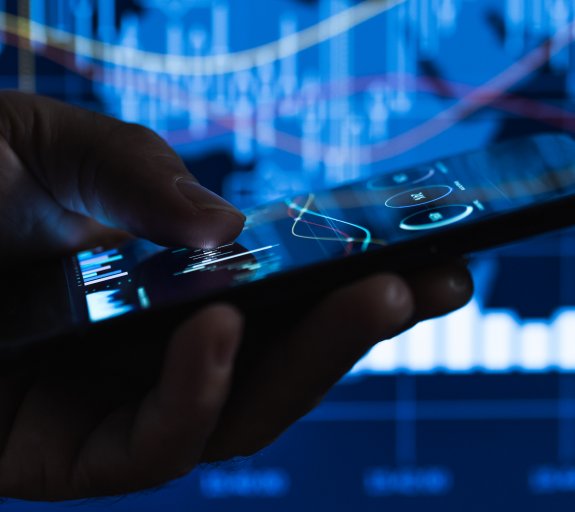 When it comes to fintech, it's the finance, not the tech you should focus on
11 June 2018 (5 min read)
---
The story of iZettle is a good primer for investors looking to understand the state of the fintech sector.
Swedish payments firm iZettle was, until very recently, expected to become Europe's largest listed financial technology company, with an indicative valuation of $1.1bn. For many the listing was further proof of fintech's coming of age. And, as a result, the announcement in mid-May that the firm had been snapped up by PayPal on the eve of its IPO, for a cool $2.2bn in cash, came as something of a surprise.
However, for close watchers of the sector, iZettle's decision to join forces with an incumbent player in the fintech space, albeit a relatively new one, perhaps wasn't that shocking a development. At a firm level, PayPal hopes the acquisition of the company, which makes portable credit card readers and software that can be linked to mobile phones, will help it break into a new part of the payments business more quickly than it has so far managed to do on its own. For iZettle, the benefits are clear – a deep-pocketed parent with global scale. Though maybe more importantly, the deal provides evidence of a broader change taking place.
The shift from competition to collaboration
As has been the case in other industries that have either endured disruption (e.g. the music sector) or are in the process of being disrupted (i.e. the automobile sector), the narrative often told about fintech is an adversarial one.  And, it is a story that has gained a lot of traction and investment. In 2016, the fintech industry attracted more than $13.1bn in venture-capital backed investments, five times higher than the total reached just four years earlier1 . But arguably the fintech story is sidestepping a key trend, namely the shift from competition, to collaboration.
Banks have long recognised the need for technological expertise. Increasingly they have also begun to realise that consumers expect the same level of service from their financial service providers that they receive in other parts of their lives – lives that are increasingly supported by on-demand digital services and machine learning algorithms. As a result, banks need to act more quickly and more comprehensively when it comes to innovation.
A good example of what this looks like in practice can be found within the walls of BNP Paribas – a bank that has not only purchased 95% of so-called 'new bank' Compte Nickel but has also launched an investment fund to invest indirectly in fintech firms via venture capital funds.
It is a model that seems to be gaining traction, particularly in the West. As Citi Research showed recently, while venture capital funding levels have increased in recent years, total venture capital-only funding for fintech slowed in 2016, compared to 2015, while the proportion of funding from other areas, like companies and mutual funds, increased. The firm noted too that in the rolling 12-month period to the end of March this year, there were 56 investments by major banks into venture capital-backed fintech companies.2
This is alongside the significant ongoing investments these firms continue to make in their own infrastructure – as much as 15% to 25% of their annual budget is currently spent on technology, according to some estimates.3
On the other side of the table, as the fintech industry has begun to mature, firms have increasingly realised how much it costs to acquire customers and how much red tape is involved in doing cross-border business. Both of which are challenges that big, incumbent banks are well suited to solve.
Disruption is still coming
This is not to say that the financial sector is not going to be significantly disrupted. It is clear that there is an appetite from consumers for new and better services. On average 33% of digitally active consumers already make use of fintech services, up from 16% in 2015. Across emerging markets, this figure jumps to 46%.4 And, while incumbent banks are well-equipped to help small fintech firms achieve scale, the same can be said for the big tech players – companies with big balance sheets, even bigger customer bases and petabytes of data on what they read and watch and how they spend their money. Their case is helped by surveys that demonstrate that people are more trusting of tech giants than they are of banks when it comes to personal data.5
But, it is unlikely that this disruption will happen as the result of a single firm unveiling a 'magic bullet' solution to all of the sector's challenges. Rather, it is increasingly likely that the real disruption will come from a combination of factors. Big technology firms are now partnering, and will continue to collaborate with fintechs in areas of the market with less regulatory oversight, like payments solutions and short term insurance. And, these combinations will continue to take market share from the weaker incumbent players in those areas. At the same time, financial services firms will continue to invest in and collaborate with smaller fintech firms to help improve their systems and make their approach to the sector's structural issues more nimble.
The challenge for the sector is how to manage and regulate such collaborations. The challenge for financial services companies is choosing the right partners and processes. And, the challenge for investors is to determine which companies are likeliest to be overtaken by technology companies, and which ones are going find the right partners – partners that can help them win what is increasingly a collaborative race.
RVk6IFVubGVhc2hpbmcgdGhlIHBvdGVudGlhbCBvZiBGaW5UZWNoIGluIGJhbmtpbmcgcmVwb3J0IDIwMTc=
IGh0dHA6Ly93d3cudm9zdG9rZW1lcmdpbmdmaW5hbmNlLmNvbS9jb250ZW50L3VwbG9hZHMvMjAxNy8wNS9DaXRpX0dQU19EaWdpdGFsX0Rpc3J1cHRpb25fUmV2aXNpdGVkXy1XaGF0X0ZpblRlY2hfVkNfSW52ZXN0bWVudHNfVGVsbHNfVXNfQWJvdXRfYV9DaGFuZ2luZ19JbmR1c3RyeS5wZGY=
Q2l0aSBSZXNlYXJjaCBKYW51YXJ5IDIwMTg=
IDIwMTcgRVkgRmludGVjaCBBZG9wdGlvbiBJbmRleCwgd2hpY2ggdHJhY2tzIGNvbnN1bWVyIHVzYWdlIG9mIGZpbnRlY2ggc2VydmljZXMgb3ZlciB0aW1l
IGh0dHA6Ly91ay5idXNpbmVzc2luc2lkZXIuY29tL3JmaS1ncm91cC1taWxsZW5uaWFsLWJyaXRzLXRydXN0LWFtYXpvbi1wYXlwYWwtb3Zlci1iYW5rcy0yMDE4LTU=