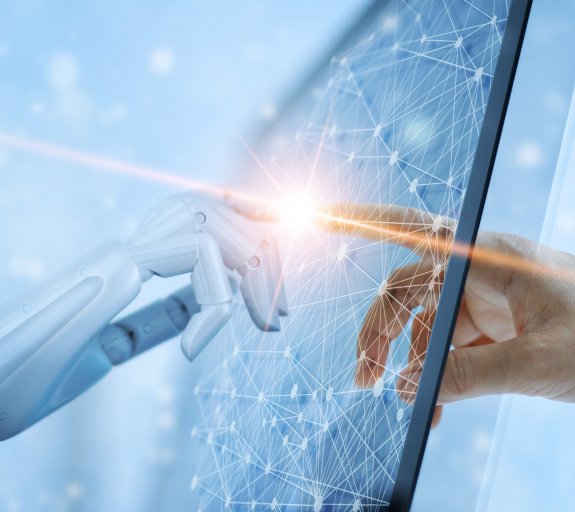 Tech stocks have been hot, but value remains in the long-term trends
05 October 2021 (5 min read)
---
Technology stocks have soared since the start of the pandemic. Their products and services helped us adapt to new ways of life, accelerating the megatrend of global interconnectivity and pushing tech indices to regularly hit new record highs. For some, that has sparked concerns the sector has become overheated – and overvalued.
Markets may have taken an initial hit as the pandemic struck, but tech investors have since enjoyed significant gains. In 2020, the technology-focused Nasdaq index delivered a staggering 45% return, while the broader S&P 500 delivered a still very respectable 18%. Year to date, the two indices are respectively up 20% and 22%.1
Technology's run means tech stocks' relative valuation on the S&P 500 IT index for example, is some 27.5% higher than the broader S&P index, as measured by the ratio of stock prices to earnings.2
However, valuations in technology shares have always tended to be higher than for companies in more traditional sectors. In many cases our view is that the multiples still do not fully reflect the additional growth potential that tech firms may offer.
Quality at the right price
When it comes to tech, valuations only tell part of the story. Fundamentally good quality growth typically attracts a premium and we believe that plenty of long-term opportunities remain across the technology universe. Investors may need to pay that bit extra if they wish to partake and benefit from the sector's long-term potential.
When technology is ready to be commercially deployed, it can often address a far larger market than initially anticipated. As such the primary motivator for paying a premium is the compounding effect of growth.
For example, let us consider a company that is growing at 10% per quarter, delivering about 45% annual growth. If it then grows at 11% per quarter – a small uptick relative to expectations – that equates to annual growth of about 52% per year. Therefore, if a firm's value is based on the expectation it might enjoy 40%-plus annual growth, but it then delivers more than 50%, the price-to-earning-multiple suddenly looks very different.
As such, we focus on firms with significant long-term potential. Many technology firms have demonstrated their ability to reach milestones in the past – and in many cases they have exceeded them and continue to do so.
Rising results
A company like Alphabet (Google) has been public since 2004, but it is still growing and in many ways is still growing like a start-up. The situation today is a far cry from the backdrop which led up to the dotcom crash at the turn of the century when prices soared. In 1999 many technology firms were experiencing unsustainable growth and being rewarded with valuations which were anything but realistic given their lack of both revenues and customers.
Today technology firms have very real revenues, profits and clients – they enjoy strong cash flow generation and many still have very large markets to address.  
Recent quarterly reports starkly highlight the robust state of the sector. Alphabet announced that Google's advertising revenue had jumped 69% year-on-year to $50.44bn during the second quarter (Q2). Amazon announced a 27% net sales increase to $113.1bn while Microsoft's revenue rose 21% to $46.2bn. In addition, Facebook's Q2 revenue was up a massive 56% to $29bn while Apple's quarterly revenue reached $81.4bn – a 36% rise from 12 months earlier while profits almost doubled from $11.3bn to $21.7bn.3
Growing opportunity
Tech has evolved, and continues to do so, in ways few would have imagined 20 years ago – Amazon, initially an online book seller, recently purchased Hollywood giant and owner of the James Bond franchise MGM for $8.45bn.4
Technology firms no longer just sell hardware and software but provide services (Amazon Prime, Microsoft Xbox Live, Apple Pay, Google Play et al.) which in turn provide regular income streams.
There has been especially rapid growth in cloud infrastructure spending. According to McKinsey & Co. the top three cloud service providers reached $100bn in combined revenue in 2020 – but a plethora of as-yet-untapped opportunities remain as the group says this still represents a fraction of the global $2.4trn market for enterprise IT services.5
For its part, Amazon Web Services saw revenue growth accelerate 37% in Q2, up from 32% in the previous three months.6
The sector, in my view, remains awash with opportunity. When COVID-19 first hit, there were elements of tech spending that accelerated, especially those enabling businesses to continue operating and their employees to work from home. Many longer-term projects were put aside, but now they are coming back online.  
For example, in the US there are numerous regional banks which remain behind the curve in terms of digital services. But to continue to serve their customers, they need to offer online and mobile banking services. Younger generations want to bank online, on their phone, and now many such banks are implementing a mobile banking strategy. Up until last year, many were dragging their heels but now they realise that a digital banking strategy is going to make or break their business. In the US, it feels like they are only really starting to get to grip with that now.
Value vs. longevity
Ultimately, if you want to find an expensively valued tech company you do not have to look very far. Many of the high valuations are deserved, but others, less so. Equally, cheaply valued tech companies can just as easily be found, many of which have delivered poor returns over the years. Going cheap is not necessarily a good strategy in tech sector – it's about good quality.
Valuation is important – it can help you find an attractive entry point, but it is not the be-and-end-all way of measuring how good companies are on a standalone basis. It is essential to drill into all the information behind the growth – the quality of that growth, its sustainability, and the leverage a business can deliver.
The tech sector is exposed to more than its fair share of fashionable trends and valuations can be driven up very sharply, but they can deflate as quickly. We are looking for long-term trends – companies that are going to be the long-term winners, even if they do currently trade at a premium relative to their peers. And right now, we believe the sector offers an abundance of just such opportunities.   
RmFjdHNldCBEYXRhIGFzIGF0IDMxLzEyLzIwMjAgYW5kIGFzIGF0IDAyLzA5LzIwMjE=
Qmxvb21iZXJnIGFzIGF0IDIzIFNlcHRlbWJlciAyMDIx
QWxwaGFiZXQgKEdPT0dMKSBlYXJuaW5ncyBRMiAyMDIxIChjbmJjLmNvbSkgLyBHT09HIEV4aGliaXQgOTkuMSBRMiAyMDIxIChhYmMueHl6KSAvIEFwcGxlIFJlcG9ydHMgVGhpcmQgUXVhcnRlciBSZXN1bHRzIC0gQXBwbGUgLyBNaWNyb3NvZnQgY2xvdWQgc3RyZW5ndGggZnVlbHMgZm91cnRoIHF1YXJ0ZXIgcmVzdWx0cyAtIFN0b3JpZXMgLyBGYWNlYm9vayAtIEZhY2Vib29rIFJlcG9ydHMgU2Vjb25kIFF1YXJ0ZXIgMjAyMSBSZXN1bHRzIChmYi5jb20pIC8gQW1hem9uLmNvbSwgSW5jLiAtIEFtYXpvbi5jb20gQW5ub3VuY2VzIFNlY29uZCBRdWFydGVyIFJlc3VsdHMgKGFib3V0YW1hem9uLmNvbSk=
QW1hem9uIGJ1eXMgSG9sbHl3b29kIHN0dWRpbyBNR00gZm9yICQ4LjQ1Ym4gLSBCQkMgTmV3cw==
VGhlIGNsb3VkIHRyYW5zZm9ybWF0aW9uIGVuZ2luZSB8IE1jS2luc2V5
QVdTIGVhcm5pbmdzIFEyIDIwMjEgKGNuYmMuY29tKQ==