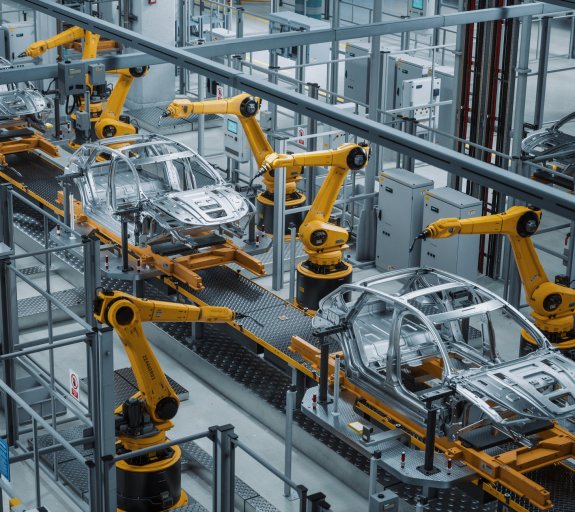 Advances in AI and tighter labour markets sees the robotics and automation sector soar
23 October 2023 (5 min read)
---
Key points:
Technological innovation combined with labour shortages are driving growth of robotics and automation
We see potential investment opportunities in the semiconductor manufacturers behind this technology
Companies in a variety of sectors are also reaping the benefits of automation – increasing their long-term investment potential
Significant advances in artificial intelligence (AI) coupled with labour markets that continue to be tight are ramping up the use of automation, as an ever-rising number of companies increasingly harness robotics to bolster efficiency, safety and precision.
In the wake of this backdrop, factories worldwide introduced a record number of industrial robots in 2022 - at 553,052 - an increase of 5% on 2021's total, according to the International Federation of Robotics (IFR). According to the trade body, between 2023 and 2026, the market is expected to grow by 7% per year.1
The automotive industry accounts for around a third of all robots in factories worldwide and unsurprisingly it has a long history with automation.2
More than a century ago, in 1913, the Ford Motor Company introduced a production assembly line that is seen as an early form of automation, while General Motors used robots for welding in the early 1960s.3
Today, most car manufacturers use automation at nearly every stage of vehicle production, with the manufacturing of batteries for electric vehicles proving to be a large new market for automation technologies. We are also seeing exciting developments in the use of artificial intelligence to develop electric vehicles, as well as cars that can optimise fuel usage, navigate in real time, alert drivers to maintenance issues and even drive autonomously.4
Whether it is in automotive or other manufacturing industries, the use of robotics and automation can reduce costs and increase efficiency, quality and safety. Connected or smart factories can gather and assess data which can optimise processes, helping manufacturers respond swiftly to changing demand, as well as recognising problems before they cause wider disruption.
Image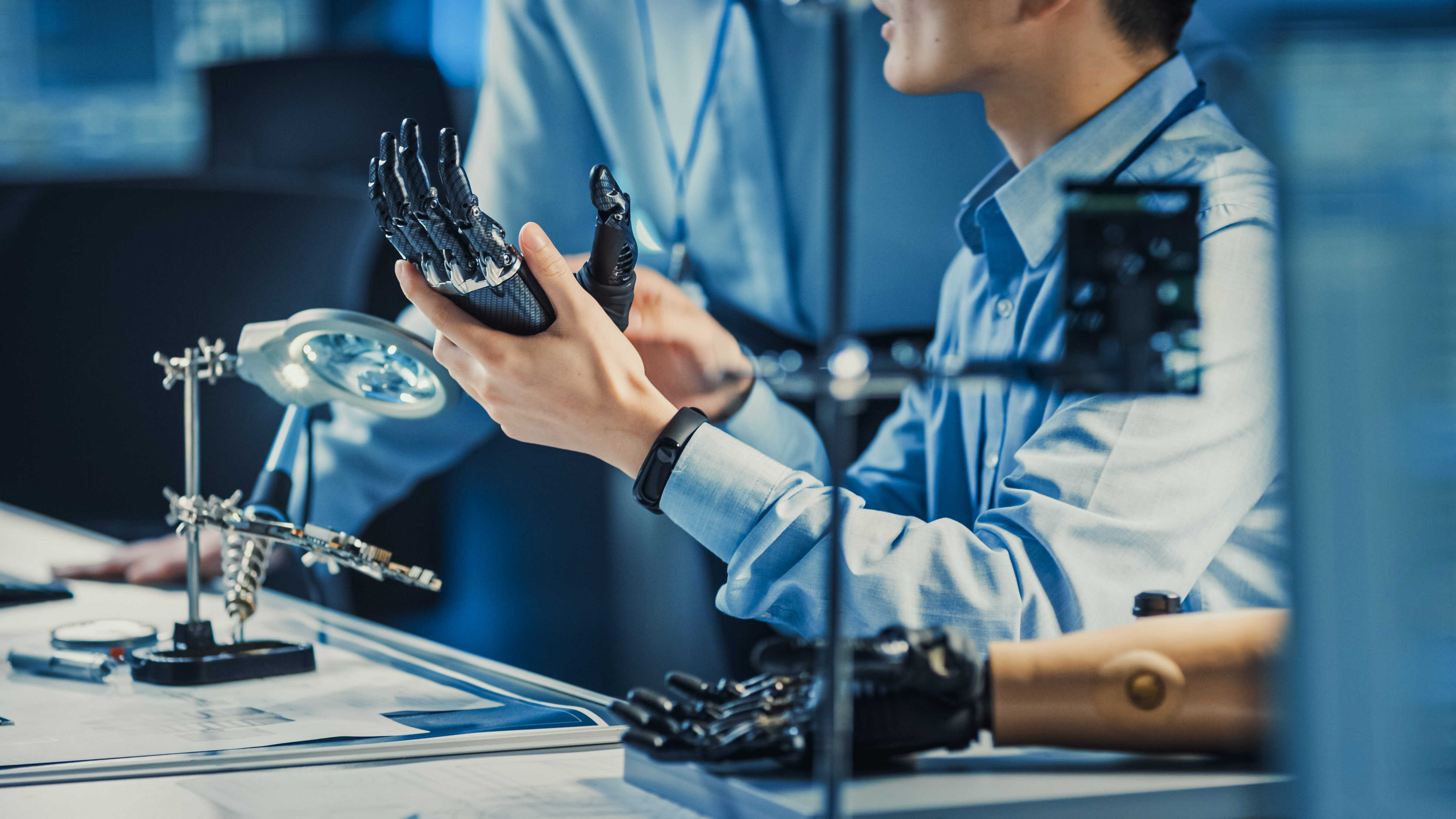 Changing demographics and consumer behaviour
The capabilities offered by robotics has developed far beyond traditional industry and manufacturing; many other sectors are harnessing the power of automation. In healthcare, robotic surgery allows doctors to perform complex procedures with more precision and control, while AI can automate administrative work, help tailor medication to individual patients and play a role in drug development.5
This can lead to greater efficiencies and better care for patients, less risk through more precision and cost savings for providers. Changing demographics also have their part to play here, as a growing proportion of older populations means governments need to find cheaper and more efficient ways of administering care.
The COVID-19 pandemic boosted growth of e-commerce and meant many retailers and distributors needed to scale up their fulfilment of orders, increasingly turning to automation. From Amazon to grocery chain Ocado, companies are using warehouse robotics for managing orders, picking, sorting, packaging and more – and this market is forecast to almost double from $12.9bn in 2023 to near $25bn in 2028.6
Chipmakers at the heart of automation
Driving these new opportunities across sectors are the software companies, semiconductor manufacturers and producers of other components for robotics and automation, including sensors and vision systems. They are innovating and scaling up to provide chips and parts for increasingly complex devices, addressing problems and opportunities that would have been unimaginable in the past. The global semiconductor market enjoyed sales of $600bn in 2021 and is expected to grow to a $1trn industry by 2030, according to McKinsey.7
Chip designer Nvidia has seen its share price rocket this year8 and in August outlined advances that it said could take machine learning to the next level, including tailoring hardware to specific AI tasks.9 Another semiconductor developer, AMD, is also a key player in this space and is planning to ramp up production of chips for generative AI.10
Advances in AI are driving improvements in semiconductor design and production, as chips need to become increasingly complex. At the same time, the semiconductor industry is incorporating AI itself, in areas like semiconductor design where AI solutions help chip designers more rapidly test and design new chip – driving both innovation and efficiency in the sector.
Image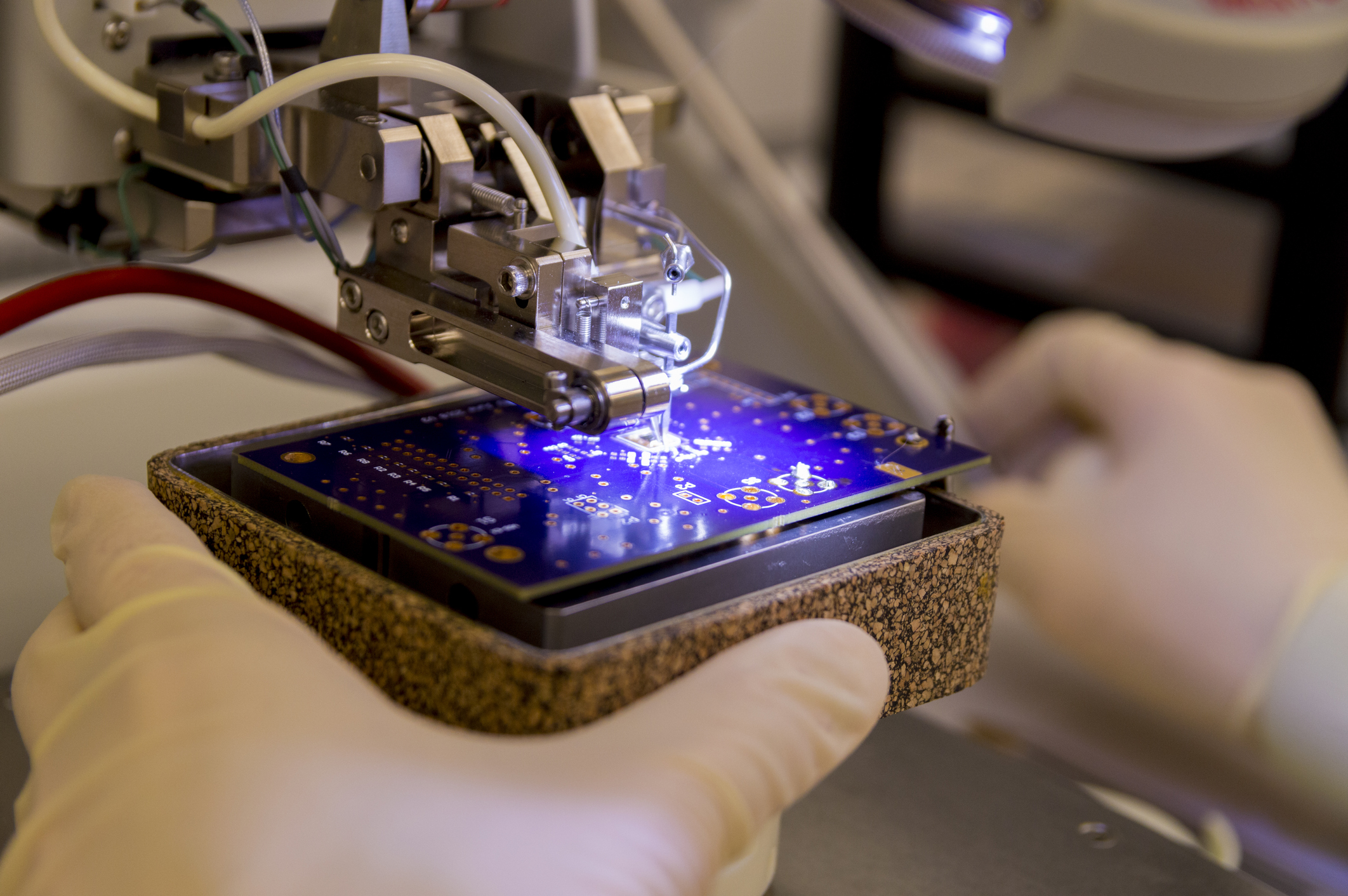 Government policy drives adoption
Government policy is also driving growth across of the sector. The US's CHIPS Act is injecting $52bn into US technology innovation, focused around semiconductor design and domestic semiconductor production.11 In September, the US government announced $238m had been granted to set up eight regional innovation hubs for micro-electronics, the largest award to date under the CHIPS Act.12
In addition, the introduction of the Inflation Reduction Act (IRA), which also went live in August 2022, allocates further spending on domestic US manufacturing, focusing on key technologies.13 Since the passage of these bills, companies have committed over $200bn to US semiconductor and clean tech production, according to research – almost double the 2021 figure.14
While the US is at the forefront of the chip design industry, it currently accounts for just 12% of global semiconductor manufacturing, with the bulk – around 75% - carried out in East Asia.15
Meanwhile across manufacturing, US machinery is the amongst the oldest it has ever been. The average age of manufacturing capital stock is 11 years, according to 2022 data, compared to an average of eight years over the past several decades16 , indicating that upgrades are imminent.
Elsewhere, the European Chips Act came into force in September, aiming to increase the European Union's share of global semiconductor production from 10% to at least 20% by the end of this decade.17 One project under the Act is a joint venture between Asia's Taiwan Semiconductor Manufacturing Company (TSMC), which dominates the global chip manufacturing industry, and a group of European manufacturers to produce advanced semiconductors in Germany.18
Fundamentally underpinned
Industrial companies worldwide expect to spend heavily on robotics and automation, led by logistics and fulfilment firms, according to McKinsey.19 But the analysis found that successful implementation is a concern among businesses, suggesting the most successful robotics and automation providers will be those that can help their industrial clients overcome the challenges.
Meanwhile, the adoption of new technologies is expected to drive job growth in more than half of the companies surveyed in the World Economic Forum's Future of Jobs 2023 report, while displacing jobs in one-fifth of companies.20 Rather than replacing workers, many businesses deploy collaborative robots, or 'cobots', where humans work alongside or together with robots.
The combination of changing consumer and corporate demand, and the backing of new government policies and investment, means a considerable potential boost for the robotics and automation sector. As demands for technology become more complex, we see potential investment opportunities in semiconductor firms that innovate to keep pace with these changing needs. Changing demographics and tight labour markets also feed into the case for growth in robotics and automation.
Meanwhile sectors that are at the forefront of harnessing the benefits of AI, including transportation and healthcare, look set to continue to benefit as the use of robotics and automation becomes further embedded.
We believe the robotics and automation sector is a significant growth market, and one where we are still in the fledgling stages of its development; not only in terms of its expansion potential but also in terms of the long-term investment opportunities it presents.
V29ybGQgUm9ib3RpY3MgMjAyMyBSZXBvcnQ6IEFzaWEgYWhlYWQgb2YgRXVyb3BlIGFuZCB0aGUgQW1lcmljYXMgLSBJbnRlcm5hdGlvbmFsIEZlZGVyYXRpb24gb2YgUm9ib3RpY3MgKGlmci5vcmcp
T25lIE1pbGxpb24gUm9ib3RzIFdvcmsgaW4gQ2FyIEluZHVzdHJ5IFdvcmxkd2lkZSDigJMgTmV3IFJlY29yZCAtIEludGVybmF0aW9uYWwgRmVkZXJhdGlvbiBvZiBSb2JvdGljcyAoaWZyLm9yZyk=
VGhlIEhpc3Rvcnkgb2YgSW5kdXN0cmlhbCBBdXRvbWF0aW9uIGluIE1hbnVmYWN0dXJpbmcgKGF1dG9tYXRlLm9yZykgLyBUaGUgSGlzdG9yeSBvZiBSb2JvdGljcyBpbiB0aGUgQXV0b21vdGl2ZSBJbmR1c3RyeSB8IGF1dG9tYXRlLm9yZw==
QUkgaW4gdGhlIEF1dG9tb3RpdmUgSW5kdXN0cnk6IDIwIFVzZSBDYXNlcyAmYW1wOyBUb3AgRXhhbXBsZXMgKGl0cmFuc2l0aW9uLmNvbSk=
VGhlIHJpc2Ugb2YgYXJ0aWZpY2lhbCBpbnRlbGxpZ2VuY2UgaW4gaGVhbHRoY2FyZSBhcHBsaWNhdGlvbnMgLSBQTUMgKG5paC5nb3YpIC8gQXJ0aWZpY2lhbCBpbnRlbGxpZ2VuY2UgaW4gZHJ1ZyBkaXNjb3ZlcnkgYW5kIGRldmVsb3BtZW50IC0gUE1DIChuaWguZ292KQ==
V2FyZWhvdXNlIFJvYm90cyBNYXJrZXQgLSBDb21wYW5pZXMsIFNpemUgJmFtcDsgSW5kdXN0cnkgVHJlbmRzIChtb3Jkb3JpbnRlbGxpZ2VuY2UuY29tKQ==
VGhlIHNlbWljb25kdWN0b3IgZGVjYWRlOiBBIHRyaWxsaW9uLWRvbGxhciBpbmR1c3RyeSB8IE1jS2luc2V5
Q2hpcG1ha2VyIE52aWRpYSBjcnVzaGVzIHF1YXJ0ZXJseSBleHBlY3RhdGlvbnMgd2l0aCAkMTMuNWJuIGluIHJldmVudWUgfCBRdWFydGVybHkgcmVzdWx0cyB8IFRoZSBHdWFyZGlhbg==
TlZJRElBIEtleW5vdGUgUG9pbnRzIFdheSB0byBGdXJ0aGVyIEFJIEFkdmFuY2VzIHwgTlZJRElBIEJsb2c=
QU1EIHBsYW5zIEFJIGNoaXAgZGVidXQgYnkgeWVhci1lbmQsIHNlZXMgQ2hpbmEgQUkgb3Bwb3J0dW5pdHkgfCBSZXV0ZXJz
Q3JlYXRpbmcgSGVscGZ1bCBJbmNlbnRpdmVzIHRvIFByb2R1Y2UgU2VtaWNvbmR1Y3RvcnMgYW5kIFNjaWVuY2UgQWN0IG9mIDIwMjLCoChDSElQUyBBQ1Qp
RGVwdXR5IFNlY3JldGFyeSBvZiBEZWZlbnNlIEthdGhsZWVuIEhpY2tzIEFubm91bmNlcyAkMjM4TSBDSElQUyBhbmQgU2NpZW5jZSBBY3QgQXdhcmQgJmd0OyBVLlMuIERlcGFydG1lbnQgb2YgRGVmZW5zZSAmZ3Q7IFJlbGVhc2U=
SG93IHRoZSBVUyBJbmZsYXRpb24gUmVkdWN0aW9uIEFjdCB3aWxsIGltcGFjdCB0aGUgZWNvbm9teSB8IFdvcmxkIEVjb25vbWljIEZvcnVtICh3ZWZvcnVtLm9yZyk=
VVMgbWFudWZhY3R1cmluZyBjb21taXRtZW50cyBkb3VibGUgYWZ0ZXIgQmlkZW4gc3Vic2lkaWVzIGxhdW5jaGVkIHwgRmluYW5jaWFsIFRpbWVzIC8g4oCYVHJhbnNmb3JtYXRpb25hbCBjaGFuZ2XigJk6IEJpZGVu4oCZcyBpbmR1c3RyaWFsIHBsYW4gdHJpZ2dlcnMgd2F2ZSBvZiBpbnZlc3RtZW50IHBsZWRnZXMgfCBmRGkgSW50ZWxsaWdlbmNlIOKAkyBZb3VyIHNvdXJjZSBmb3IgZm9yZWlnbiBkaXJlY3QgaW52ZXN0bWVudCBpbmZvcm1hdGlvbiAtIGZEaUludGVsbGlnZW5jZS5jb20=
V2h5IHNlbWljb25kdWN0b3JzIGhhdmUgYmVjb21lIGEgZ2VvcG9saXRpY2FsIGlzc3VlIOKAkyBhbmQgd2hhdCBpdCBtZWFucyBmb3IgaW52ZXN0b3JzIHwgQVhBIElNIENvcnBvcmF0ZSAoYXhhLWltLmNvbSk=
VVMgQnVyZWF1IG9mIEVjb25vbWljIEFuYWx5c2lzLCBDdXJyZW50IGNvc3QgYXZlcmFnZSBhZ2UgYXQgeWVhci1lbmQgb2YgcHJpdmF0ZSBlcXVpcG1lbnQgdG8gaW5kdXN0cnksIDMwIFNlcHRlbWJlciAyMDIy
RGlnaXRhbCBzb3ZlcmVpZ250eSAoZXVyb3BhLmV1KQ==
VFNNQywgQm9zY2gsIEluZmluZW9uLCBhbmQgTlhQIEVzdGFibGlzaCBKb2ludCBWZW50dXJlIHRvIEJyaW5nIEFkdmFuY2VkIFNlbWljb25kdWN0b3IgTWFudWZhY3R1cmluZyB0byBFdXJvcGU=
VW5sb2NraW5nIHRoZSBpbmR1c3RyaWFsIHBvdGVudGlhbCBvZiByb2JvdGljcyBhbmQgYXV0b21hdGlvbiB8IE1jS2luc2V5
V0VGX0Z1dHVyZV9vZl9Kb2JzXzIwMjMucGRmICh3ZWZvcnVtLm9yZyk=