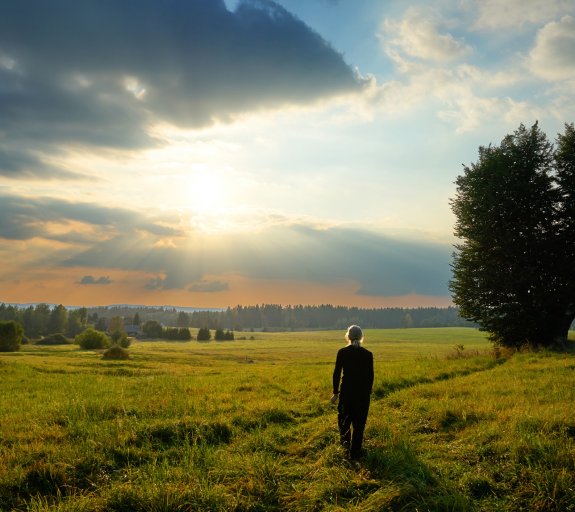 Why green hydrogen can play a crucial role in the energy transition
12 July 2022 (7 min read)
---
Soaring gas prices and a renewed focus on energy security following Russia's invasion of Ukraine have highlighted growing interest in hydrogen as an energy source. What's more, green hydrogen – made from renewable energy - could be key to reaching net zero targets, while also bringing potential new opportunities for investors.
What is green hydrogen?
Hydrogen gas produces no harmful carbon emissions when it is used as a fuel. It can also be stored and transported far more easily than other forms of renewable energy such as solar and wind. It is already used as a raw material for fertilisers, and to remove sulphur from fuels in refining, but has potentially wider uses - particularly in sectors which are potentially harder to decarbonise, like shipping and aviation. In fact, BloombergNEF predicts hydrogen could meet up to 24% of the world's energy needs by 2050,1 while the latest report from the Intergovernmental Panel on Climate Change highlights the important role that hydrogen can play in reducing emissions.2
However, from a sustainability perspective, it is not that straightforward. Another energy source is needed to produce hydrogen from raw materials but the historically cheapest, and most commonly used source, is natural gas - a fossil fuel. This means that while hydrogen is environmentally friendly to use, it can be harmful to the environment to produce. But there is another way to produce hydrogen, through electrolysis (splitting water molecules) using renewable electricity, meaning no carbon emissions from its creation. This is known as 'green' hydrogen and it is a clean energy that can be used to power cars, heat homes, support heavy industry and for aviation.
The hydrogen colour spectrum

The way that hydrogen is produced, and how environmentally-friendly it is, has given rise to a whole spectrum of terms, from green – producing no harmful emissions – through blue, to black, and even via pink and yellow3 . Blue hydrogen is often referred to as low-carbon hydrogen, as it is produced from a fossil fuel - natural gas - but carbon capture and storage methods are used to contain the harmful by-product. However, research has suggested that emissions from making blue hydrogen are still substantial4 . Currently, grey hydrogen is the most commonly produced – also created from natural gas but without carbon capture and storage, meaning it creates harmful emissions.
Unfortunately, using renewable electricity to produce green hydrogen is much more expensive – between $3 and $8 per kilogram, compared to $0.50 to $1.7 per kilogram from fossil fuels, according to the IEA in 2021.5 While this study used figures from before Russia's invasion of Ukraine, which sent the cost of natural gas soaring, even now for many sectors it is not yet cost-efficient. However, the IEA predicted that the cost of producing green hydrogen could fall to as little as a third of current levels through continued investment, technology innovation and increased deployment resulting in economies of scale, making it cost-competitive with grey hydrogen – not least given the recent spike in the cost of natural gas.
BloombergNEF has forecast that green hydrogen will be cheaper than blue by 20306 while the International Renewable Energy Agency says that the two could be cost competitive by 2030.7
SHlkcm9nZW4gRWNvbm9teSBPdXRsb29rLCBNYXJjaCAyMDIwLCBCTkVG
aHR0cHM6Ly9yZXBvcnQuaXBjYy5jaC9hcjZ3ZzMvcGRmL0lQQ0NfQVI2X1dHSUlJX0ZpbmFsRHJhZnRfRnVsbFJlcG9ydC5wZGY=
VGhlIGh5ZHJvZ2VuIGNvbG91ciBzcGVjdHJ1bSB8IE5hdGlvbmFsIEdyaWQgR3JvdXA=
R3JlZW4gaHlkcm9nZW4gYmVhdHMgYmx1ZSBvbiBlbWlzc2lvbnMgYW5kIGZpbmFuY2lhbCBjb3N0LCBBdXN0cmFsaWFuIHN0dWR5IGZpbmRzIHwgRW5lcmd5IHwgVGhlIEd1YXJkaWFu
R2xvYmFsIEh5ZHJvZ2VuIFJldmlldyAyMDIxIOKAkyBBbmFseXNpcyAtIElFQQ==
J0dyZWVuJyBIeWRyb2dlbiB0byBPdXRjb21wZXRlICdCbHVlJyBFdmVyeXdoZXJlIGJ5IDIwMzAgfCBCbG9vbWJlcmdORUYgKGJuZWYuY29tKQ==
V29ybGQgRW5lcmd5IFRyYW5zaXRpb25zIE91dGxvb2s6IDEuNcKwQyBQYXRod2F5IChpcmVuYS5vcmcp
---
Public policy and corporates leading the way
Governments around the world are already rolling out clean hydrogen strategies. The European Commission and the US Department of Energy both published hydrogen plans in 2020, to bring together research and innovation with production and infrastructure. Last year, the US also announced a hydrogen energy 'earthshot' initiative aiming to reduce the cost of clean hydrogen by 80% within a decade8 , while President Joe Biden's infrastructure bill includes $9.5bn of funding for the hydrogen industry.9
Japan was the first country to publish a hydrogen strategy, in 201710 , while China, the world's largest emitter of greenhouse gases, announced a new target for green hydrogen this year.11 Meanwhile the World Bank is working with developing countries to accelerate scaling up green hydrogen projects.12
State-led support for innovation and technology could give a potential boost to companies wanting to raise capital to fund their own projects, creating new opportunities for investors. For example, Germany has pledged to invest €8bn in hydrogen projects which it expects to be matched with €33bn of private investment.13
There are a number of corporates that are leading the way in helping scale up the use of green hydrogen. For example, Iberdrola, an integrated power utilities company, is currently constructing one of the largest plants producing green hydrogen for industrial use in Europe to meet electrification and decarbonisation needs in order to achieve net zero.
Ceres Power, which produces fuel cell power generation units, recently announced an agreement with Shell to deliver an oxide electrolyser in order to deliver low-cost green hydrogen for industrial use.
Still work to be done
However, there are challenges such as infrastructure, storage and build time when developing and building hydrogen production sites. Currently there is a lack of dedicated and consistent hydrogen policy and regulation across many regions and this means for hydrogen production, transport, storage and distribution there can be differing rules and sometimes no clear regulation. For companies, this can mean a slow approval process – sometimes as much as a year – when building hydrogen production sites. Production sites will be key in commercially scaling green hydrogen as infrastructure for distribution and storage is required. Storage is a key element for green hydrogen to be used and transported to other regions, allowing stockpiling to ensure future demand spikes can be met.
Scaling up investment in hydrogen is potentially good news for investors both in terms of the equity of companies across the clean energy supply chain and government bonds of countries that could stand to benefit.
The IEA's Global Hydrogen Review includes a series of recommendations, for example for governments to help lower the price of producing green hydrogen through carbon pricing, mandates, quotas and more.
A key enabler of green hydrogen is the growth in renewable electricity, but this could also be a bottleneck as many industries compete for access to clean power. Ensuring that solar farms and wind turbines are deployed at scale, and even faster than the already-rapid pace we have seen in recent years will be crucial for the development of the hydrogen economy.
Low cost and reliable systems for storing and distributing hydrogen, including locating hydrogen stores closer to end-users, will also be needed if the goal is to make this a commonly available fuel for a wider range of uses. Manufacturing processes will also need to evolve to be able to use hydrogen as a power source, alongside new standards and regulations, and there will be a need for a workforce with a new skillset.
Potential new investment opportunities
This could create potentially promising new areas for investors. As well as companies directly involved in energy provision to homes and businesses, there are potential opportunities in all parts of the supply chain, from companies that make the renewable energy needed to produce green hydrogen, or supply components needed for the process, to the distribution infrastructure including pipelines and storage, and finally sectors that can use hydrogen as a fuel source.
Ultimately, we believe that a lower carbon economy would ultimately equate to higher economic growth - and that hydrogen technology has barely scratched the surface of its potential.14
But the challenges of greening the existing grey hydrogen production and growing volumes at a large scale, to cost efficiency and storage and transport issues, cannot be overlooked.
However, we believe that it is worth the effort, and investment needed, as using green hydrogen in sectors such as cement, steel and long-haul shipping would help to massively reduce global greenhouse gas emissions. It also has the potential to support the industrialisation of developing countries in a more sustainable way.
But for this to happen, pilot schemes need to be turned into large-scale industrialised solutions. This requires significant financing, policy support and adequate implementation – BloombergNEF suggests that $150bn of cumulative subsidies are needed to 2030 to scale up hydrogen as an energy source while the Hydrogen Council estimates a total of $700bn in investments is needed along the entire value chain.15
IEh5ZHJvZ2VuIFNob3QgfCBEZXBhcnRtZW50IG9mIEVuZXJneQ==
QmlwYXJ0aXNhbiBJbmZyYXN0cnVjdHVyZSBMZWdpc2xhdGlvbiBTaWduZWQgaW50byBMYXcsIEluY2x1ZGVzICQ5LjUgQmlsbGlvbiBmb3IgSHlkcm9nZW4gSW5kdXN0cnkgKHBybmV3c3dpcmUuY29tKQ==
VGFwcGluZyBIeWRyb2dlbuKAmXMgRW5lcmd5IFBvdGVudGlhbCB8IE1FVEkgTWluaXN0cnkgb2YgRWNvbm9teSwgVHJhZGUgYW5kIEluZHVzdHJ5
Q2hpbmEgc2V0cyBncmVlbiBoeWRyb2dlbiB0YXJnZXQgZm9yIDIwMjUsIGV5ZXMgd2lkZXNwcmVhZCB1c2UgfCBSZXV0ZXJz
R3JlZW4gSHlkcm9nZW46IEEga2V5IGludmVzdG1lbnQgZm9yIHRoZSBlbmVyZ3kgdHJhbnNpdGlvbiAod29ybGRiYW5rLm9yZyk=
R2VybWFueSB0byBpbnZlc3Qg4oKsOCBibiBpbiBsYXJnZS1zY2FsZSBoeWRyb2dlbiBwcm9qZWN0cyDigJMgRVVSQUNUSVYuY29t
V2h5IGxlc3MgY2FyYm9uIG1lYW5zIHN0cm9uZ2VyIGdyb3d0aCBmb3IgdGhlIGdsb2JhbCBlY29ub215IHwgQVhBIElNIENvcnBvcmF0ZSAoYXhhLWltLmNvbSk=
SHlkcm9nZW4gRWNvbm9teSBPdXRsb29rLCBCbG9vbWJlcmdORUYgwqAvIEh5ZHJvZ2VuLWZvci1OZXQtWmVyby5wZGYgKGh5ZHJvZ2VuY291bmNpbC5jb20p
---
It also entails infrastructure development, a rethinking of industrial models and local organisation. And of course, it requires massive amount of renewable electricity. All this creates multiple potential opportunities for investors, across a variety of sectors – and while green hydrogen is only one piece of the puzzle in the transition to a low carbon society, we believe it can be a crucial one.
And while green hydrogen solutions and technologies are largely being developed by private companies at the moment, we are seeing more listed companies develop projects and technologies needed to accelerate green hydrogen within their businesses. We believe there is a huge potential in the listed equity space in terms of green hydrogen for investors with a longer-term outlook.