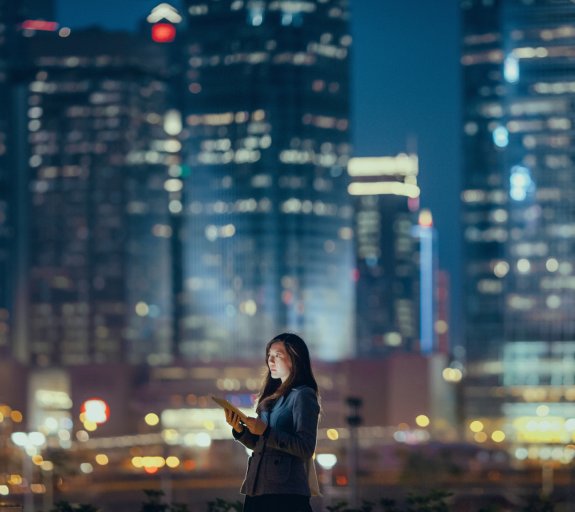 How technological transformation is shaping Asia's future
04 July 2023 (7 min read)
---
Key points:
Technological transformation is impacting industries across Southeast Asia, creating potential opportunities for investors
Data, connectivity and robotics are among the advances boosting growth in manufacturing while fintech and digital healthcare are also soaring
The pandemic accelerated e-commerce in the region, supported by long-term demographic changes
The hype surrounding advanced technology has reached fever pitch, from the latest breakthroughs in artificial intelligence (AI), to the new Apple headset which some believe could revolutionise the virtual experience and take the metaverse mainstream. While it's exciting to associate these with the future, it's important to note technological transformation is already impacting the way many 'real' industries are operating and creating opportunities along the way.
While Asia's tech infrastructure and automation has historically been underdeveloped relative to the West, various factors such as high internet connectivity, and increasingly affluent and urban demographics, have driven the region to adopt technologies and automation at a faster pace.
Manufacturing's next phase of digitalisation
Industry 4.0 technologies —also called the Fourth Industrial Revolution or 4IR—is the next phase in the manufacturing sector's digitalisation. It is driven by disruptive trends including the rise of data and connectivity, analytics, human-machine interactions, and improvements in robotics. China has been investing heavily in robotics and automation technologies to increase efficiency and productivity in its manufacturing sector.1 In Japan, companies such as Fanuc are leading the way in the development of industrial robots that can work alongside humans.2  
COVID-19 has accelerated the 4IR transition because physical distancing and shifting consumer demands forced companies to embrace digitalisation and contactless operations. Smart technologies will continue to unlock potential within the region's manufacturing industries. Notably, the emerging Southeast Asian manufacturing bloc (Malaysia, Thailand, the Philippines and Vietnam) continues to gain market share accounting for 7% of global manufacturing output – the same is true of India with 3%, based on the World Bank data, with China at 30% and the US at 16% still representing the largest share.3
Fintech and digital healthcare soar
Socio-economic shifts and increased connectivity across the region are creating exciting opportunities within fintech and digital healthcare systems. Asia's number of commercial bank branches per adult is less than half that of the US, while the number of credit cards per adult is nearly one-tenth.4 With limited access to traditional physical bank branches and banking services like credit cards, the unbanked and underbanked population in Asia has gone straight to fintech solutions for payments and wealth management. This has empowered the growth of mobile payments, including through digital/mobile wallets, which account for a larger share of transactions at both e-commerce and physical points-of-sale than in western markets.
Asia is also emerging at the forefront of developing digital healthcare ecosystems. driven by its ageing population, rising focus on health awareness and uneven distribution of healthcare resources. The numbers of physicians and hospital beds per person in Asia are approximately 39% and 40% lower than the global average.5 With limited capacity to deliver in-person care, the region has been quick to adopt telemedicine and digital healthcare services. Digital healthcare has touched the lives of around 1.5 billion people in Asia, in terms of registered users across emerging healthcare platforms, and its base is continuing to grow.6 The region's digital healthcare revenues totalled $73.8bn in 2022, accounting for over 50% of the global total, and they are expected to continue growing at a 14% compound annual growth rate in 2022-2027, compared with the global rate of 12%.7
Demographic transformation drives digital economy
With continued rise in wealth comes higher demand for goods and services. This demographic transformation has also created an active investment landscape around e-commerce as well as the digital economy more broadly. While the region's strong digitalisation was already marked by high smartphone use and social media penetration, with e-commerce already popular, the sector boomed during the COVID-19 pandemic – accelerating at an altogether different pace. When people stayed in the safety of their homes, e-commerce ran away, with China and the US accounting for 67% of the global market share, almost equally split, while Asia excluding China accounts for roughly 13%.8
Southeast Asia in particular remains among the fastest growing region due to still relatively lower e-commerce penetration at 18%, compared to China at 31%, South Korea at 36% and the US 23%. The region's penetration rate is expected to increase to 23% by 2027.9 The Philippines and Malaysia enjoy the strongest online retail growth worldwide, expanding each year by some 25% and 23% respectively.10 This significant growth will continue to put pressure on existing infrastructure and create a greater need for innovative solutions, presenting a wave of potential opportunities across the digital ecosystem, from the entire logistics value chain to digital payment services and manufacturing.
Undoubtedly, while there are still challenges surrounding the region's young digital infrastructure and related skills base, we believe the potential is undeniable.
T3ZlcnZpZXcgb2YgdGhlIENoaW5lc2UgSW5kdXN0cmlhbCBSb2JvdCBNYXJrZXQgfCBFcXVhbE9jZWFu
V2hvIHdlIGFyZSAtIHNwZWNpYWxpc3QgZm9yIGZhY3RvcnkgYXV0b21hdGlvbiAtIEZhbnVj
TWFudWZhY3R1cmluZyBpbiB0aGUgTXVsdGlwb2xhciBXb3JsZCwgTW9yZ2FuIFN0YW5sZXksIFdvcmxkIEJhbmsgZGF0YSBNYXkgMjAyMy4=
SU1GLCDigJxGaW5hbmNpYWwgQWNjZXNzIFN1cnZleSzigJ0gYWNjZXNzZWQgMzAgSmFudWFyeSAyMDIzOyBNb25leSBUcmFuc2ZlcnMsIOKAnDI0IEV5ZS1PcGVuaW5nIENyZWRpdCBDYXJkIFN0YXRpc3RpY3MgZm9yIDIwMjIs4oCdIHVwZGF0ZWQgMjEgTm92ZW1iZXIsIDIwMjIu
V29ybGQgQmFuaywg4oCcUGh5c2ljaWFucyAocGVyIDEsMDAwIHBlb3BsZSks4oCdIDMwIEphbnVhcnksIDIwMjM7IFdvcmxkIEJhbmssIOKAnEhvc3BpdGFsIGJlZHMgKHBlciAxLDAwMCBwZW9wbGUpLOKAnSAzMCBKYW51YXJ5LCAyMDIzLg==
QWdncmVnYXRlIGVzdGltYXRlIGFzIG9mIDIwMjAuIEF4ZWwgQmF1ciwgSGFubiBZZXcsIGFuZCBNZW5nd2VpIFhpbiwg4oCcVGhlIEZ1dHVyZSBvZiBIZWFsdGhjYXJlIGluIEFzaWE6IERpZ2l0YWwgSGVhbHRoIEVjb3N5c3RlbXMs4oCdIE1jS2luc2V5ICZhbXA7IENvbXBhbnksIDIxIEp1bHksIDIwMjE=
4oCcQXNpYSBhcyBhIHRpbWUgbWFjaGluZSB0byB0aGUgZnV0dXJl4oCdIENpdGkgR1BTOiBHbG9iYWwgUGVyc3BlY3RpdmVzICZhbXA7IFNvbHV0aW9ucywgTWF5IDIwMjMuIFN0YXRpc3RhLCDigJxEaWdpdGFsIEhlYWx0aCDigJMgVW5pdGVkIFN0YXRlcyzigJ0gYWNjZXNzZWQgMzEgSmFudWFyeSwgMjAyMy4=
VGhlIFBvd2VyIG9mIE1hcmtldHBsYWNlcywgTW9yZ2FuIFN0YW5sZXkgUmVzZWFyY2gsIE1heSAyMDIzLg==
VGhlIFBvd2VyIG9mIE1hcmtldHBsYWNlcywgTW9yZ2FuIFN0YW5sZXkgUmVzZWFyY2gsIE1heSAyMDIzLg==
SG93IGRpZ2l0YWxpemF0aW9uIGlzIG1ha2luZyBTb3V0aCBhbmQgU291dGhlYXN0IEFzaWEgZW5naW5lcyBvZiBncm93dGgsIFdvcmxkIEVjb25vbWljIEZvcnVt