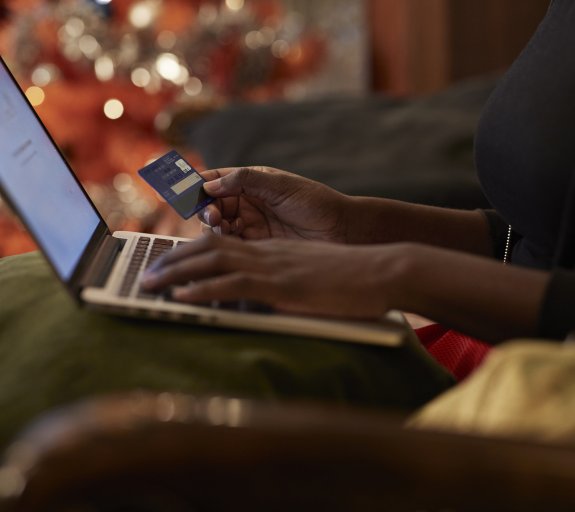 Black Friday and Cyber Monday: E-Commerce against a backdrop of high inflation
24 November 2022 (5 min read)
---
Black Friday and Cyber Monday: E-Commerce against a backdrop of high inflation
Black Friday, the Friday after US Thanksgiving, has become one of the biggest days for online retail around the world. Alongside Cyber Monday - the Monday following US Thanksgiving - the two events have evolved into a month-long period of sales, marking the beginning of the holiday shopping season.
US Black Friday and Cyber Monday sales
Image
Source: Adobe Insights 2019, 2020, 2021
Image

---
Black Friday and Cyber Monday in 2022
Against a backdrop of high inflation and a cost-of-living squeeze, retailers operating on Black Friday and Cyber Monday this year may feel the effects of supply chain issues, rising costs and decreased consumer spending. However, we believe the long-term growth prospects of e-commerce remain intact, especially as the world becomes increasingly digital.
Image

Year-on-year nominal growth 
of US holiday sales is 
expected to reach

7.5% 

E-commerce and mail-order sales will account for 55%
and could, at the end of the holiday season, reach $255bn.3
---
E-commerce penetration has continued to rise
We see the rise in Black Friday and Cyber Monday sales in previous years as part of a bigger picture of growth in global retail e-commerce.
Global retail e-commerce sales
Image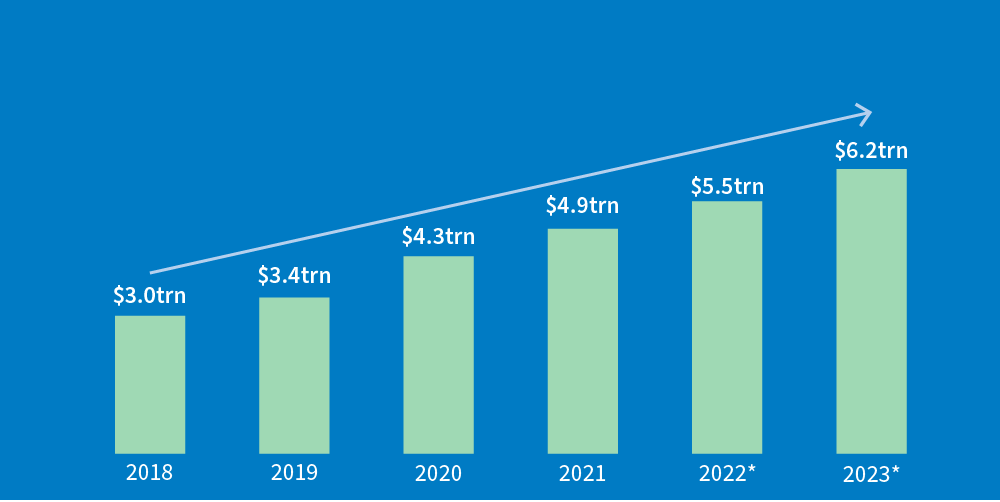 Source: Global retail e-commerce sales 2026, Statista. Note: Figures for 2022 and 2023 are forecasts.4
E-commerce rose from 15% of total global retail sales over 2019 to 21% in 2021. It now sits at an estimated 22% of sales.5
---
An evolving consumer landscape
The COVID-19 pandemic, technological advancements and cost-of-living pressures have served to drastically transform the landscape of retail and commerce.
Image

58% 

of internet users make online purchases each week.6

74%  

of internet users in the EU shopped online for personal consumption in 2021.7
While the rising cost of living and its impact on consumer spending will be a headwind for businesses, we see e-commerce continuing to grow as a result of key structural changes in consumer behaviour and the ongoing digitalisation of the economy.

Companies that are agile and able to adapt to the current environment, while harnessing the power of data to be more productive and efficient, are more likely to see good growth.
Jeremy Gleeson, CFA
Digital Economy strategy manager
---
Sources: 
[1] Adobe: Consumers spent $10.8 billion on Cyber Monday, $109.8 billion so far this holiday season | Adobe
[2] 11 Black Friday and Cyber Monday Online Retail Stats - SaleCycle
[3] Will Amazon Deliver Its Usual Holiday Growth? | Bain & Company | 2022 Holiday Shopping Outlook | Bain & Company
[4] Global retail e-commerce sales 2026 | Statista
[5] Global Ecommerce Growth Forecast 2022 | Morgan Stanley
[6] Digital 2022: Global Overview Report — DataReportal – Global Digital Insights
[7] Online shopping ever more popular - Products Eurostat News - Eurostat (europa.eu)