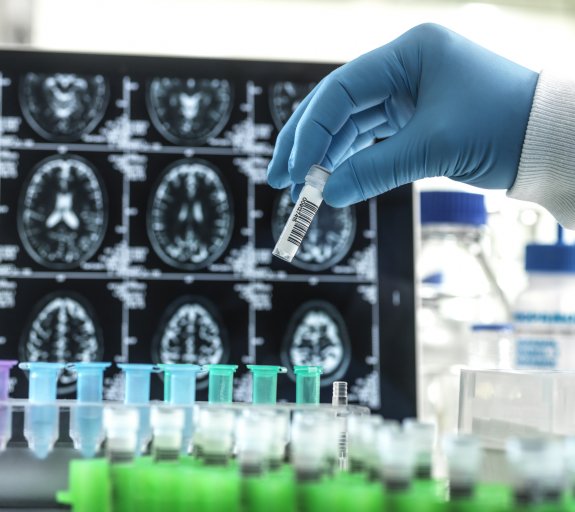 Game-changing Alzheimer's drugs could drive a wave of investment across biotech
14 September 2023 (7 min read)
---
Key points:
Recent developments in the treatment of Alzheimer's disease herald new hope for patients
There are still challenges to be met to bring the treatments to as many people as possible
We see significant commercial potential and new opportunities for investors
A new wave of Alzheimer's drugs could be a gamechanger for sufferers, and the biotech sector - providing new hope for patients as well as opening up potential new investment opportunities.
Alzheimer's is a type of dementia that causes progressive problems with memory and speech and impacts broader brain function - including the ability to carry out even simple tasks. It is the seventh most common cause of death globally and there is little help for sufferers in terms of successful treatments for the disease.1
A breakthrough came in November 2022 when biotech firms Eisai and Biogen presented positive results from the clinical trial of their Alzheimer's drug lecanemab. This was the first time any drug had consistently demonstrated success in slowing the disease's progress.2
Since then, there have been further exciting developments in treating Alzheimer's – very good news for patients, and for investors in biopharma and healthcare firms.
New milestones in treatment
A significant milestone was reached when the US Food & Drug Administration (FDA) granted full approval to lecanemab – sold under the brand name Leqembi - in July 2023, after granting it initial accelerated approval in January. The FDA called it a "safe and effective treatment for patients with Alzheimer's disease,"3 allowing it to go on sale in the US, likely to be its biggest commercial market.
The US Centers for Medicare & Medicaid Services, which provide health insurance coverage for older US citizens, have confirmed it will cover treatment with the drug for eligible patients.4 Despite some logistical hurdles such as a registry data-collection requirement, this was good news for many patients, while also presenting a significant sales opportunity and removing much of the uncertainty for investors that surrounded the first news of the drug's efficacy. One analysis suggests it can expect total sales of as much as $12.9bn between 2023 and 2028.5
Elsewhere, Japan has given the go-ahead in the first step towards formal approval for lecanemab,6 while Biogen and Eisai have also submitted applications for approval in Europe, China, Canada, and the UK.7 In Japan and China, the applications have been designated for priority review8 , a process that aims to accelerate the pathway for new drugs deemed to have significant clinical value.
Similarly in the UK, lecanemab has been designated for the Innovative Licensing and Access Pathway, which also aims to reduce the time to market for innovative medicines.9
But this is not the only new Alzheimer's drug making headlines – Eli Lilly reported positive results from a Phase 3 clinical trial of its drug donanemab in July. The drug was able to slow cognitive decline by 35%, by tackling amyloid protein – a cause of Alzheimer's disease - in the brain. Half the patients in the trial were able to stop the treatment after one year, as it had delivered a significant effect.10
There are currently 187 trials assessing 141 drugs for the treatment of Alzheimer's disease,11 among them early studies by smaller biotech firms like Prothena and Acumen. Lecanemab itself resulted from a research partnership between a small Swedish biotech company, BioArctic, and the much larger Eisai.12
A significant impact
These new developments are an important first step in fighting Alzheimer's. As well as helping patients in the short term, they provide validation that treatments can have efficacy as well as insights into the disease's process. This could help facilitate a broader discussion among regulators, leading to a potentially more supportive regulatory environment and a new, viable pathway for smaller players to continue innovative early research and development.
This could pave the way for the creation of second and third generation drugs which on their own or in combination could offer better outcomes for patients, while also helping reduce the burden on their families, and on healthcare systems. In turn, this creates potential new opportunities for investors.
The global cost of dementia, including Alzheimer's disease, is currently estimated to be around $1.3trn, with around half this amount due to the economic value of unpaid informal care.13 The cost is likely to increase as the global population ages - around 55 million people worldwide have dementia, and the number is expected to increase to 139 million in 2050.14
While most Alzheimer's sufferers are aged over 6515 , the disease does not only concern older generations. Dementia research charity Alzheimer's Research UK has published the sobering statistics that around one in three females and one in four males born from 2015 will go on to develop dementia.16
Challenges to overcome
Even for the successful products in the late stage of development there are of course still major challenges to overcome.
To ensure broad patient access, the cost of the drugs would likely need to be covered by health insurance programmes like the UK's National Health Service. Yet some 60% of the global Alzheimer's and dementia burden is found in low-and-middle-income countries17 , where access to medicine could be a challenge.
In the UK, there are likely to be challenges to the commercial roll-out due to a lack of required infrastructure, including diagnostic facilities to ensure appropriate diagnosis and treatment as well as essential safety monitoring.
Another hurdle is that currently, lecanemab and donanemab need to be administered intravenously at a healthcare facility at regular intervals - the former once every two weeks, and the latter once a month - though work is already underway on a version of lecanemab that can be administered subcutaneously at home.18
A new era for patients, and investors
Despite these challenges to overcome, the development of these drugs is a long-awaited and hugely exciting breakthrough in biotech and healthcare. They provide treatment, and hope, for patients and their families, and those who could develop the disease in future. The commercial opportunities, as highlighted above, are also likely to be significant.
The market for Alzheimer's drugs is expected to be sizeable and underpinned by long-term fundamentals including an ageing global population. We believe these new developments in the treatment of this devastating disease signals a new era of patient care, and potentially a new wave of investment opportunities.
References to companies are for illustrative purposes only and should not be viewed as investment recommendations.
RGVtZW50aWEgKHdoby5pbnQp
Q291bGQgYW4gQWx6aGVpbWVy4oCZcyBicmVha3Rocm91Z2ggaGVyYWxkIGEgbWFqb3IgbmV3IG1hcmtldCBmb3IgYmlvdGVjaD8gfCBBWEEgSU0gQ29yZSAoYXhhLWltLmNvbSk=
RkRBIENvbnZlcnRzIE5vdmVsIEFsemhlaW1lcuKAmXMgRGlzZWFzZSBUcmVhdG1lbnQgdG8gVHJhZGl0aW9uYWwgQXBwcm92YWwgfCBGREE=
RXhwbGFpbmVyOiBXaG8gaXMgZWxpZ2libGUgZm9yIHRoZSBuZXcgRkRBLWFwcHJvdmVkIEFsemhlaW1lcidzIGRydWc/IHwgUmV1dGVycyAvIFN0YXRlbWVudDogQnJvYWRlciBNZWRpY2FyZSBDb3ZlcmFnZSBvZiBMZXFlbWJpIEF2YWlsYWJsZSBGb2xsb3dpbmcgRkRBIFRyYWRpdGlvbmFsIEFwcHJvdmFsIHwgQ01T
QWx6aGVpbWVyJ3MgZHJ1ZyBMZXFlbWJpIHNldCB0byBnZW5lcmF0ZSAkMTIuOWJuIGluIHNhbGVzIGJ5IDIwMjggKHBoYXJtYWNldXRpY2FsLXRlY2hub2xvZ3kuY29tKQ==
SmFwYW5lc2UgcGFuZWwgT0tzIEFsemhlaW1lcidzIGRydWcgYnkgRWlzYWkgYW5kIEJpb2dlbiAtIE5pa2tlaSBBc2lhLg==
SGVhbHRoIENhbmFkYSBBY2NlcHRzIE5ldyBEcnVnIFN1Ym1pc3Npb24gZm9yIExlY2FuZW1hYiBhcyBUcmVhdG1lbnQgZm9yIEVhcmx5IEFsemhlaW1lcuKAmXMgRGlzZWFzZSB8IEJpb2dlbiAvIEVJU0FJIFNVQk1JVFMgTUFSS0VUSU5HIEFVVEhPUklaQVRJT04gQVBQTElDQVRJT04gRk9SIExFQ0FORU1BQiBBUyBUUkVBVE1FTlQgRk9SIEVBUkxZIEFMWkhFSU1FUuKAmVMgRElTRUFTRSBJTiBFVVJPUEUgfCBCaW9nZW4gLyBFSVNBSSBTVUJNSVRTIE1BUktFVElORyBBVVRIT1JJWkFUSU9OIEFQUExJQ0FUSU9OIEZPUiBMRUNBTkVNQUJMRUNBTkVNQUIgQVMgVFJFQVRNRU5UIEZPUiBFQVJMWSBBTFpIRUlNRVLigJlTIERJU0VBU0UgSU4gR1JFQVQgQlJJVEFJTiB8IE5ld3MgUmVsZWFzZe+8mjIwMjMgfCBFaXNhaSBDby4sIEx0ZC4vIEJJT0xPR0lDUyBMSUNFTlNFIEFQUExJQ0FUSU9OIEZPUiBMRUNBTkVNQUJMRUNBTkVNQUIgREVTSUdOQVRFRCBGT1IgUFJJT1JJVFkgUkVWSUVXIEJZIENISU5BIE5BVElPTkFMIE1FRElDQUwgUFJPRFVDVFMgQURNSU5JU1RSQVRJT04gKHBybmV3c3dpcmUuY29tKQ==
TEVDQU5FTUFCTEVDQU5FTUFCIFJFQ0VJVkVTIFBSSU9SSVRZIFJFVklFVyBTVEFUVVMgSU4gSkFQQU4gKHBybmV3c3dpcmUuY29tKSAvIEJJT0xPR0lDUyBMSUNFTlNFIEFQUExJQ0FUSU9OIEZPUiBMRUNBTkVNQUJMRUNBTkVNQUIgREVTSUdOQVRFRCBGT1IgUFJJT1JJVFkgUkVWSUVXIEJZIENISU5BIE5BVElPTkFMIE1FRElDQUwgUFJPRFVDVFMgQURNSU5JU1RSQVRJT04gKHBybmV3c3dpcmUuY29tKQ==
RUlTQUkgU1VCTUlUUyBNQVJLRVRJTkcgQVVUSE9SSVpBVElPTiBBUFBMSUNBVElPTiBGT1IgTEVDQU5FTUFCTEVDQU5FTUFCIEFTIFRSRUFUTUVOVCBGT1IgRUFSTFkgQUxaSEVJTUVS4oCZUyBESVNFQVNFIElOIEdSRUFUIEJSSVRBSU4gfCBOZXdzIFJlbGVhc2XvvJoyMDIzIHwgRWlzYWkgQ28uLCBMdGQu
RHJ1ZyBkb25hbmVtYWIgc2VlbiBhcyB0dXJuaW5nIHBvaW50IGluIGRlbWVudGlhIGZpZ2h0IC0gQkJDIE5ld3M=
aHR0cHM6Ly9hbHotam91cm5hbHMub25saW5lbGlicmFyeS53aWxleS5jb20vZG9pLzEwLjEwMDIvdHJjMi4xMjM4NQ==
QmlvQXJjdGljIGFubm91bmNlcyByZXNlYXJjaCBjb2xsYWJvcmF0aW9uIHdpdGggRWlzYWkgcmVnYXJkaW5nIEJBTjI0MDEg4oCTIEJpb0FyY3RpYw==
V29ybGQgQWx6aGVpbWVyIFJlcG9ydCAyMDIyIOKAkyBMaWZlIGFmdGVyIGRpYWdub3NpczogTmF2aWdhdGluZyB0cmVhdG1lbnQsIGNhcmUgYW5kIHN1cHBvcnQgKGFsemludC5vcmcp
RGVtZW50aWEgKHdoby5pbnQp
UmlzayBmYWN0b3JzIGZvciBBbHpoZWltZXIncyBkaXNlYXNlIHwgQWx6aGVpbWVyJ3MgU29jaWV0eSAoYWx6aGVpbWVycy5vcmcudWsp
RGVtZW50aWEgaW4gdGhlIGZ1dHVyZTogd2hhdOKAmXMgaW4gc3RvcmUgZm9yIG91ciBjaGlsZHJlbj8gLSBBbHpoZWltZXIncyBSZXNlYXJjaCBVSyAoYWx6aGVpbWVyc3Jlc2VhcmNodWsub3JnKQ==
QmlvZ2Vu4oCZcyBBbHpoZWltZXLigJlzIHRyZWF0bWVudDogSG93IGRvIGRydWcgYXBwcm92YWxzIHdvcms/IHwgV29ybGQgRWNvbm9taWMgRm9ydW0gKHdlZm9ydW0ub3JnKQ==
RWlzYWkgdG8gZW5hYmxlIEFsemhlaW1lcidzIGRydWcgTGVxZW1iaSB0byBiZSBpbmplY3RlZCBhdCBob21lIC0gTmlra2VpIEFzaWE=