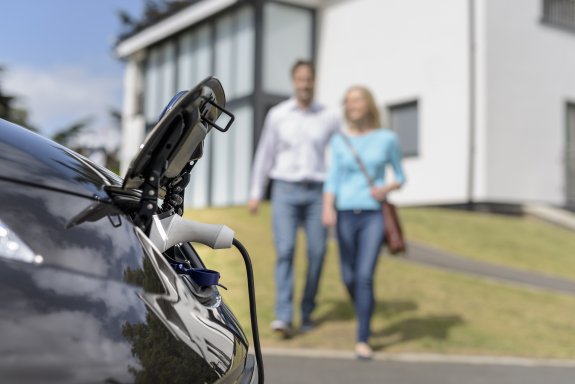 Sustainability
Biden's Electric-Vehicle Target Is All About the Drive
---
Image

A certain school of thought holds long-term targets as meaningless, as the people making them will no longer be in their job by the time they are proved right or wrong. That's especially the case for a two-term limited U.S. president. But when it comes to Joe Biden and electric vehicles, it hardly matters whether his new target for 2030 pans out. The objective is to just put one's foot on the gas.
Biden is calling for half of U.S. vehicle sales to be electrified by the end of the decade. Last year, EVs made up 2% of the market. Bloomberg NEF's latest long-term outlook has them taking about a third of U.S. sales by 2030. So you might say JFK's moonshot speech was less ambitious. 
As Biden notes in the announcement, though, incumbent automakers such as Ford Motor Co. and General Motors Co. have already set EV targets roughly in the 50% ballpark. As with so much else to do with the green elements of Biden's agenda, this is about capitalizing on an existing wave of money targeting cleantech. Consider: Tesla Inc. did much of the heavy lifting getting EVs to 2% of the market and invested roughly $23 billion over the past decade doing so1. Now just five of the world's biggest automakers — Ford, Daimler AG, GM, Stellantis NV and Volkswagen AG — have committed to invest $33 billion per year.
Read more: Can electric vehicles help drive a green recovery?
That is globally, of course, but the U.S. will take a big chunk of that. With its high-income population, driving culture and predilection for suburban homes (with garages), the U.S. ticks many boxes for EV makers — all except, until recently, political commitment to a transition.
That commitment isn't rock solid, of course. Biden's target is just that, and the incentives to get there — such as federal funding for public vehicle chargers — have been shrunk in the bipartisan infrastructure proposal. Delivering real money, as well as associated funding for the necessary upgrades to the electricity grid, depends on the much bigger mooted reconciliation package.
Yet in setting the target, and grounding it in broader ambitions such as outcompeting China and reviving manufacturing, Biden seeks allies inside and out of Congress for that push. Subsidies, along with rhetorical commitment, provide comfort for Detroit as it embarks on an extraordinarily risky reinvention. Unlike Tesla, incumbents can't treat the stock market like an ATM. Electrification also offers a way to meet more stringent fuel-economy standards, which, pointedly, take their lead from the automakers themselves.
Watch: Four areas innovating in green technology
Even if all the technology isn't there yet, the point is to ensure that investors' fascination with developing and scaling up that technology doesn't falter. Despite the greener leanings of some oil majors these days, the existential threat posed by EVs to the world's biggest commodity market means Biden cannot count on political support being maintained.
As it stands, assume existing fuel economy standards and just 20% of vehicle sales being electrified by 2030, and that would wipe away about 1.5 million barrels a day of gasoline demand relative to 2019, according to projections from ClearView Energy Partners LLC. Impose new fuel-efficiency standards and bump EVs to 40-50% of the market, and it's more like 2 million barrels a day, according to preliminary estimates from ClearView2. That's equivalent to almost one-in-ten barrels of pre-pandemic oil demand, and just for starters.
Moreover, if the U.S. is getting anywhere close to EVs taking 40% of the laggardly U.S. market by 2030, then that probably means they would be more than half of the Chinese and European markets. The momentum in favor of EVs, and against road-transportation fuels, would be unstoppable at a global scale.
Biden's real objective isn't this or that percentage. Rather, having seen the door to an electrified future opened a crack, he aims to rip the door off the hinges so no one can close it again.
Read more: Earth Overshoot Day: How investors can help move the date
© 2021 Bloomberg L.P.
This figure includes R&D spending and capital expenditure.
These projections assume new fuel-efficiency standards that fall somewhere between those set in 2012 and those established under the Trump Administration, in line with the deal California struck with Ford, Honda Motor Co., BMW AG, Volkswagen and Volvo in July 2019. They exclude any "multiplier credit" effect from EVs allowing internal combustion engine vehicles to be less fuel efficient than they might otherwise be, as fleet averages would still meet the standards set.