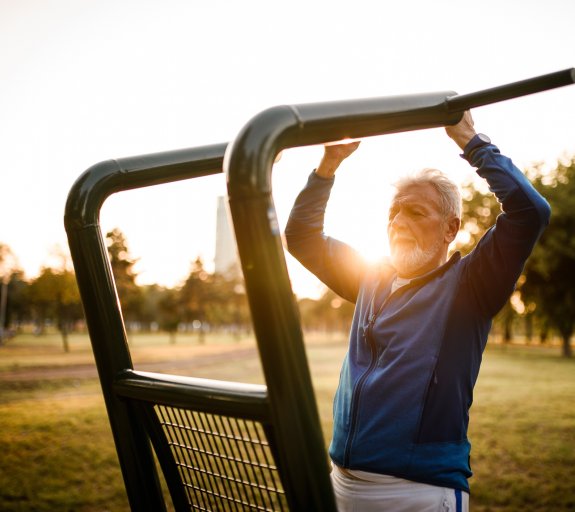 Digital Economy
10 ways the longevity economy is changing the way we live now
---
Longevity is about 'whole of life' – not just end of life. People of all ages are likely to use goods and services that come under this umbrella – which includes wellness, health and medical treatments as well as silver spending, senior care and funeral services.
Below we highlight how the longevity economy is impacting peoples' lives worldwide and show how they are benefiting from the innovations and solutions being offered by a wide variety of companies.
1. Your workout
Keeping fit and healthy is important for a longer life.  People over 65 are the UK's most frequent gym goers, with gym usage peaking at age 72, according to a study by Nuffield Health1. But many regular gym-goers have had to stay at home during coronavirus lockdowns, and have turned to trying virtual exercise classes at home. Low-cost European gym provider Basic Fit has an app that offers a range of programmes for training at home, including virtual classes and a personalised nutrition plan.
2. Seeing the doctor – virtually
Sometimes it can be difficult to schedule a doctor's appointment, especially if you need to fit it around work or family responsibilities. And during the coronavirus pandemic, many medical practitioners have preferred to conduct online or video consultations.  Global virtual care provider Teladoc Health saw total visits increase 92% to two million in the first quarter of 2020, as the coronavirus pandemic took hold2. Its services include being able to a speak to a doctor or mental health specialist over the phone, uploading photos for a dermatologist to review and getting a prescription that can be sent electronically to the pharmacy for you to collect.
3. Home treatment
If you are unwell or have had an operation, studies have suggested that recovery at home leads to shorter hospital stays, reducing the burden on hospital beds without a negative impact on patient outcomes3. But sometimes professional help is needed, for instance physical therapy or wound care. Amedisys is an example of one of the companies offering home health visits across the US, aiming to help their patients keep their independence and quality of life.
4. Managing an ongoing condition
Six in 10 US adults have a chronic disease4 and the need to manage an ongoing condition is a global theme. Medical innovations and the use of digital technology have made managing chronic diseases such as Type 2 diabetes much simpler. For instance, Dexcom offers a glucose monitoring system which can send an alert to your smartphone if your blood sugar levels become too low. In addition, medical technology company Masimo has a product for use at home that can measure oxygen levels, pulse rate and more.
5. Optimising your health
Vitamins and supplements are also a big market, with key players including Reckitt Benckiser – who says its Digestive Advantage is the number one probiotic gummy brand5. A National Health and Nutrition Examination Survey found that around one in two US adults supplement their diet with vitamins6. Meanwhile the European dietary supplements market was worth $14.3bn in 2018 and is expected to reach $20.9bn by 20267.
6. And not forgetting your pet
Almost 50% of US households own a pet according to the latest US census data8 with owners spending $528 per year on average9. Meanwhile the Asia Pacific region is seeing the highest growth globally in sales of cat and dog food, as pet ownership there increases10. Many people own pets for companionship or to encourage them to take exercise, such as walking a dog.
But having a pet means caring for them when they are sick and keeping up with regular treatments as well as their changing needs as they age. Petcare firm Zoetis is an example of one of the companies in this space that is innovating to develop new products and solutions for animal health.
7. Improving your career prospects
As we are living longer and the world changes more quickly – for example via digitalisation - we cannot expect everything we learned at school or university, or even in our early 20s, to still be enough – or relevant - throughout our working lives. You might choose to study to improve your skillset or advance your career or retrain to change jobs. Many employers also offer their workers the opportunity to gain qualifications as a way of retaining staff – for instance, through Strategic Education's Degrees@Work programme.
8. Protection
Many people choose to take out critical illness cover which pays a lump sum on diagnoses of a covered condition, to help protect against unexpected financial hardship - for instance not being well enough to continue working. During the global coronavirus-driven lockdowns, British multinational insurer Prudential found that downloads of its digital health app more than trebled between early March and mid-May11 and said it was expanding the number of products that could be sold virtually.
9. Self-care
Over the next 10 years, over 50% of the growth in consumer spending in developed countries is expected to come from the over-60s12. And most of us don't just want to live longer, we want to live healthier for longer. Personal care is an important way we can contribute to this goal. Whether you're buying Curel moisturising cream to care for your skin (owned by Japanese company Kao) or just topping up on everyday essentials such as Colgate (owned by Colgate-Palmolive), the 60-plus age group has significant spending power – and often more time to shop.
10. Leisure
Travel and tourism among the older generations is growing and it is estimated that by 2050 the over 60s will account for more than two billion trips annually13. It is undeniable that the coronavirus pandemic, has put immediate pressure on travel and tour operators. However, in many cases, travellers have already rescheduled their trips for 2021. For instance, Royal Caribbean Cruises said in May that bookings for 2021 are already in historical ranges and at higher prices compared to the same time in 2019.14
Despite the coronavirus outbreak, global populations continue to age, and we expect global life expectancies to creep higher over the longer term. So, although we may see some changes in consumption patterns post-COVID-19, the key drivers of the longevity economy remain intact. For investors with a longer-term investment horizon, these are key structural growth trends, which combined with shifting demographics can provide some interesting opportunities.
Source: Nuffield Health, 22 March 2016
Source: Teladoc, 29 April 2020
Source: Early Discharge Hospital at Home, 26 June 2017
Source: Centers for Disease Control and Prevention, 23 October 2019
Source: Reckitt Benckiser. Based on unit sales through 28 March 2020
Source: Trends in Dietary Supplement Use among US Adults From 1999–2012, 11 October 2016
Source: Fortune Business Insights
Source: United States Census Bureau, 16 May 2017
Source: United States Census Bureau, 11 April 2019
Source: Petfood Industry.com, 2 October 2019
Source: Prudential, 14 May 2020
Source: McKinsey Global Institute, Urban World: The Global Consumers to Watch, April 2016
Source: World Tourism Organisation via Tourism and Leisure Behaviour in an Ageing World by Ian Patterson, CABI, 2017
Source: Royal Caribbean, 20 May 2020